Using a sit pad for hiking is a fairly common practice. I decided to come up with 10 Uses for a sit pad on a backpacking trip to show you how useful they can be. I'll also talk about what sit pad I use out on the trail.
1 – Sit On
The first and most obvious use for a sit pad is to rest your derrière on. Thru-hiking or backpacking means you're often passing through varied terrain and environments. You might be exposed to snow-covered ground, rocky surfaces and mud. All of which would benefit from having an insulated piece of foam to place down under your money maker. When ultralight backpacking, it's beneficial to keep your clothing as warm, dry and clean as possible. Using a sit pad will help to do just that.
2 – As a Back Pad
Some Ultralight Backpacks have a dedicated sleeve to hold a sleeping pad or sit pad and serve double duty as a back panel for the pack. The pack I'll be using this summer is the Gorilla from Gossamer Gear. I'll be using the Air Flow Sit Light sit pad with it. It's made with closed-cell foam but has a honeycomb design that allows good air to flow. It protects your back from funny shaped objects poking you in the back (shh) when you're wearing the pack. It also allows your back to breathe a little compared to a pack with a fixed sheet of material.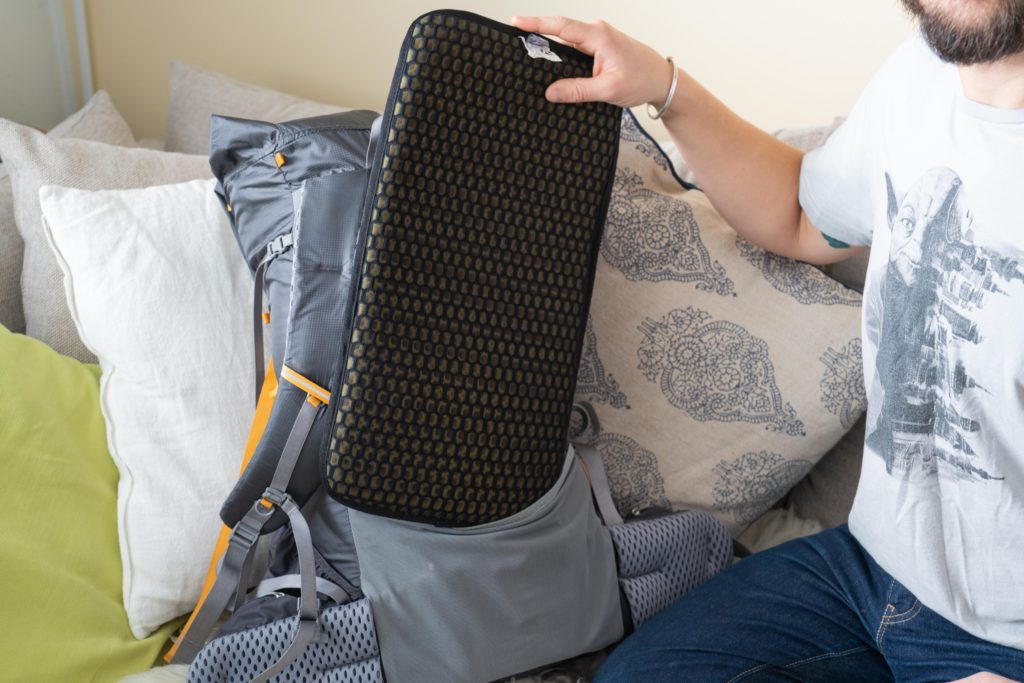 3 – As a Door Mat
Ultralight shelters are usually pretty frugal on the facilities. This year I'm moving to a tarp and bivvy system for hiking and as such my shelter doesn't have a dedicated floor. Having a movable doormat is nice when I'm setting up my shelter. It's nice to kneel on when blowing up my sleeping pad and laying out my quilt.  It's also nice to be able to shuffle butt your way off your sleeping pad and onto your door mat when you're getting up and out from your shelter.
4 – To Put Under Your Hips Under Your Sleeping Pad
This is one of my favourite uses of a sit pad. I take an inflatable mattress when I go backpacking because It helps me get a comfortable nights sleep. However, air mattresses can be prone to punctures so I like to use a sit pad under my butt and hips when I'm inside my shelter. When I'm sleeping it provides a little extra warmth and padding for my hips which can sometimes press into the ground.
Having the sit pad under my butt when I'm sitting on my sleeping pad also helps reduce the chances of a puncture in the air mattress. If I'm sitting "in bed" eating or escaping a rain storm then all of my considerable weight is focused in one spot of the air mattress. If the foam pad is under the air mattress it's providing some insulation whilst also protecting my air mattress.
5 – To Fan a Fire
There's no better fan for a fire than a foam sit pad. It's not often I have a fire when ultralight backpacking but if I do it's nice to have a good fan to fuel the flames. You can blow on your fire until your hearts content but using a fan is much more effective and uses less energy.
6 – As a Splint in a First Aid Situation
I hope I never have to splint someones leg on a thru-hike. If I do then a foam sit pad would make a decent improvised splint. I carry Leukotape (mainly for blisters) and with the sit pad I could strap up someones leg to try and support the break and make them as comfortable as possible. 
7 – As a "Clean" Place to Lay Out Electronics and Small Stuff
Having a relatively clean and dry place to lay out your gear is nice. Trying to protect expensive electronics or small items is difficult in the backcountry but a sit pad provides a platform in which to rest your gear. I use my sit pad as a moveable tray around my shelter or whenever in camp.
8 – As a Sleeping Pad on Super UL Trips
I'm sure some Super Ultralight Backpackers have used a combination of a sit pad and their backpack to sleep when trying to save weight. I'll always carry an inflatable air mattress but I have had a slow puncture in the night and woke up with a deflated mattress. At least having something to insulate you from the ground will help you get some sleep. Then when you get into town you can try to find and fix the leak.
9 – To Insulate Your Stove from the Ground in Cold Weather to Help it Run Efficiently
In all but the harshest of winter conditions, I use a canister stove such as the MSR Pocket Rocket. In the shoulder seasons or anytime the temperatures drop it adversely affects the performance of these types of stove. One way to keep the stove running is to insulate it from the ground. This is especially important when there is snow on the ground. A foam sit pad insulates the fuel canister from the ground. It also reflects up some of the heat generated by the stove. There are a few other tricks to keep your stove running when it's cold but that's another post for another time. Let me know in the comments below if you'd like to see a post about that. To see an example of my winter backpacking setup check out this post.
10 – As a Signalling Device in an Emergency or When Trying to Hitchhike
In an effort to attract attention from a search party, waving around a sit pad could be an option. Especially if the sit pad you choose uses bright colors or a reflective surface such as the Thermarest Z Seat. If you had a suitable sit pad you could also come up with a sign to show drivers when hitching on the side of the road.
What I use as a Sit Pad for Hiking
Those are my 10 uses for a sit pad for hiking. Now it's time to talk a little more about the sit pad I use. The one you've seen me use throughout this post is the Air Flow Sit Light from Gossamer Gear.
I really like this sit pad as it's designed to work specifically with the Gossamer Gear packs I own. Its design allows air to flow better when I'm wearing the pack. It's comfortable, provides a large sitting area (which is important for me) and it provides a relatively flat surface so that I can use it underneath my stove.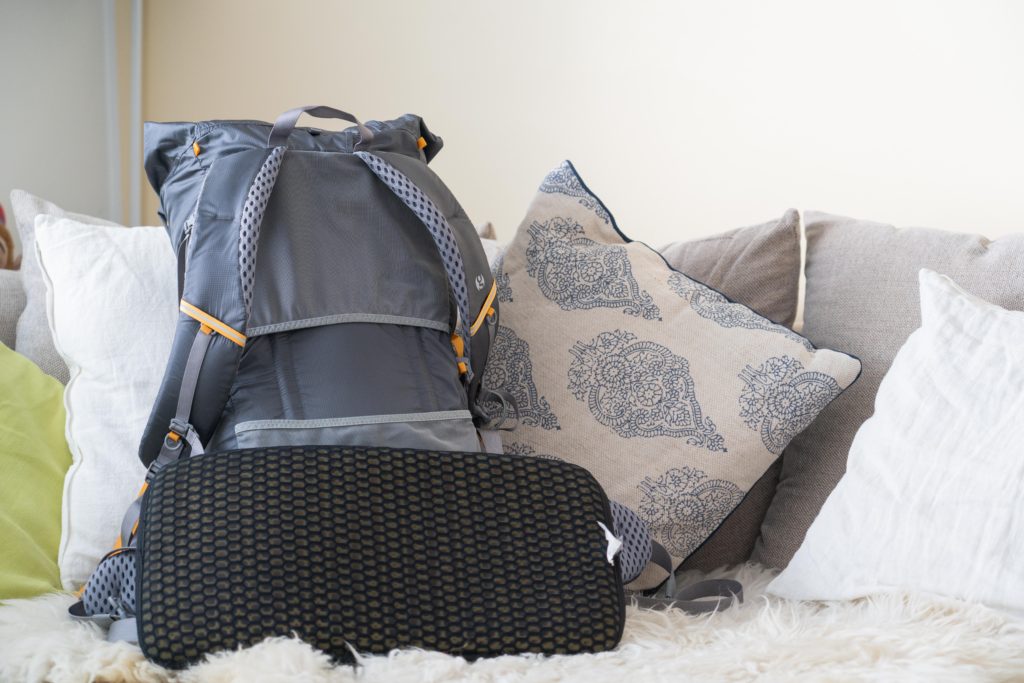 The only drawback I see is that it doesn't fold up small like other sit pads. If you wanted to use it without a Gossamer Gear pack you could easily strap it to the top of most UL Backpacks.
Carrying a sit pad on any backpacking trip seems a no brainer to me. I'm sure there are a few uses for one that I've missed out. Drop me a comment below if you've got any ideas and let me know what butt pad you use out on the trail.
Thanks for stopping by,
Pie
See what gear I'm currently using on my hiking trips
Check out the video that accompanies this article
Facebook Comments