Appalachian Gear Company
All-Paca Fleece Hoodie Review
The Appalachian Gear Company All-Paca Fleece Hoodie is a lightweight mid-layer great for hiking. The 100% Alpaca material makes the hoodie extremely breathable, making it ideal as active insulation when hiking and backpacking. 
It has similar properties to Merino Wool – It doesn't retain a lot of moisture, it insulates well when wet and doesn't start to smell quickly like synthetics. Materials are sourced from Peru and the hoodie is manufactured in the USA.
In this review of the All-Paca Fleece Hoodie, I'll break down all the features, give you some comparable options and give my pros and cons, based on my usage. I'll also do mini reviews of some of their alpaca accessories.
Shop the All-Paca Fleece Hoodie at appalachiangearcompany.com
Size & Fit
The hoodie comes in five sizes: Small, Medium, Large, XL and XXL The hoodies run large and are designed to be "normal" fit, not athletic fit but can be sized to your requirements.
Sizing and fit has its own section below, I encourage you to read that before purchasing and check out the sizing instructions on the Appalachian Gear Company (App Gear) website.
Weight
The website states that the weight of the hoodie varies from lot to lot so the figures here are averages
Small – 10 oz / 283g
Medium – 11 oz / 312g
Large – 12 oz / 340g
XL – 13 oz / 369g
XXL – 14 oz / 397g
(My large hoodie weighs – 12.9 oz/367g)
Material
100% Alpaca Fiber
Cost
145 USD
Comfort and Feel of the Fabric
Thankfully the days of scratchy, itchy wool and other fabrics are behind us. Merino wool and fleece are soft to the touch and now Alpaca material is following suit.
The fabric is soft against the skin and the fabric is quite stretchy without losing its shape. It flexes and moves with you, more so though than merino or fleece.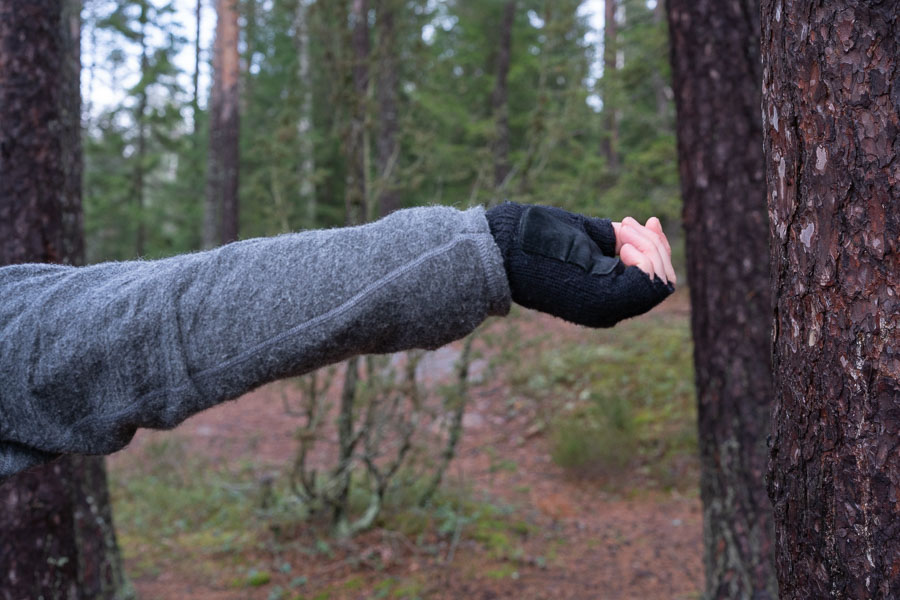 During active pursuits such as hiking with a pack for several hours, I've found the hoodie very breathable. The weave of the fabric allows body generated moisture to escape. The materials' warm when wet attribute goes hand in hand with its breathability, making it well suited as an active mid-layer. Or, when used in snowy conditions or when precipitation is likely.
It's hard to quantify exactly how "warm" a piece of clothing is but i'll try.
With the overall weight of the hoodie being so low, the material is relatively thin (think thin fleece or thicker merino) and so the garment can only be so warm.
I would say it is comparably warm to a similar weight fleece (see competitive options below) or a very lightweight puffy jacket such as the Mountain Hardware Ghost Whisperer.
It is not as warm as my current puffy jacket the RAB Proton. However, comparing it to down or synthetic puffy jackets is a little unfair as they are not designed to do the same thing.
Hiking with a backpack in a base-layer, the App Gear Hoodie, pants, light gloves, and a beanie is comfortable at around 32F/0C or below. If it's warmer than that I'd start to generate too much body heat and would remove the hoodie.
For me, hiking in this clothing would be comfortable down to about 14F/-10C , but everybody's warmth level varies.
Check out my article on the best ultralight puffy jackets here.
Layering the hoodie over my puffy jacket
With a medium hoodie weighing just 11oz I feel the Appalachian Gear Company has hit the sweet spot when it comes to lightweight mid-layers. It fits in perfectly amongst its peers and brings a lot to the table for its weight.
I'd be intrigued to see if they will eventually release a heavier weight version further down the line.
There are lighter hoodies/mid-layers on the market such as the Kuiu Peloton, weighing 4.5oz. However, I believe this is more akin to a heavyweight baselayer, and would not be as warm as the App Gear Hoodie or the mid-layers mentioned below.
Appalachian Gear Company Hoodie Sizing & Fit
The App Gear website states:
"Our Hoodies run large, so if you think you might be in-between sizes, go with the smaller size."
They also state:
"These garments are generally sized for a normal fit, and not a compression fit. If a more athletic fit is needed, you can go a size down."
When ordering my hoodie I intentionally wanted a slightly larger fit. I wanted a mid-layer that would accommodate a base layer underneath and possibly one more thin layer. I took a mid-layer I already owned and measured it as per the instructions on their website. I still ended up with a hoodie that is too large for me. It fits well in the chest and arms and the sleeve length is good. However, in the belly area, it is very baggy and the hem falls too low for my liking.
For reference, these photos show me wearing the All-paca fleece hoodie in large and a Melanzana hoodie in a medium. I'm 5 11 and weigh 170lbs. I am a medium (US) in most things.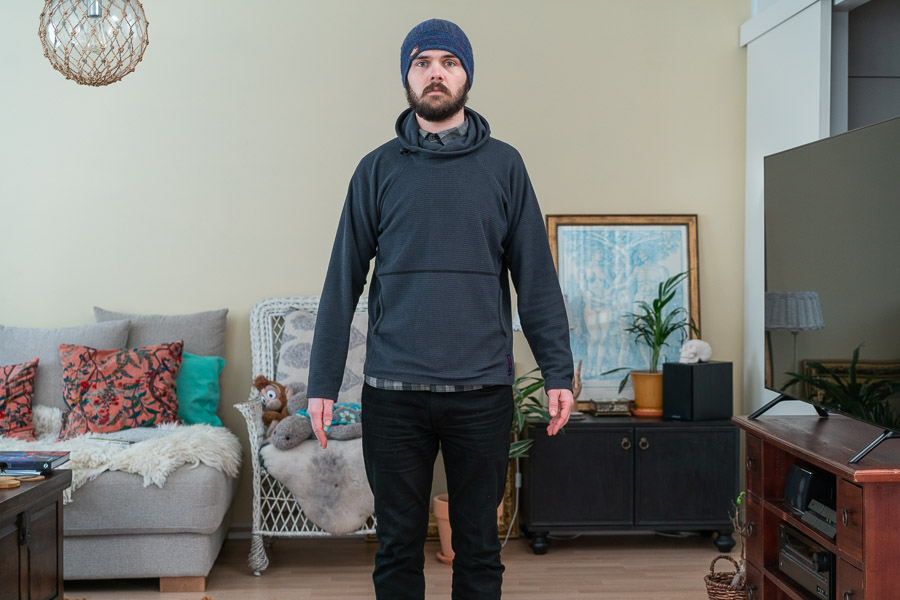 I think the Melazana is too small for me and the App Gear hoodie is too large. Somewhere in between the two would be perfect. 
With the extra length at the hips and butt area, it can be difficult to layer the hoodie underneath a rain jacket or other layers. Especially as most hiking/active clothing is cut above the waist.
This issue with sizing is probably my own fault but be aware they do run big and factor that in.
App Gear has a 30-day return policy for exchanging your hoodie so if you're not happy with the fit you can switch it out. They also have a full 6-month return policy if you are unhappy with the product.
I wore the Appalachian Gear Company All-paca fleece hoodie for multiple hours every day throughout the winter of 2019/2020. Often during outdoor pursuits that generated body heat and sweat. 
I wore it so much partly because I wanted to thoroughly test it out but mainly because it was so damn cozy in the winter months. After that time the hoodie had no smell whatsoever and the only reason I washed it was so to see how it held up.
Washing the Appalachian Gear Company All-Paca Fleece Hoodie
After using the hoodie extensively I wanted to freshen it up. I also wanted to follow the instructions for washing on their website and see if any shrinkage occurred. I've had several merino/organic material garments shrink on me. Despite following manufacturers' instructions.
I washed the hoodie and all the accessories mentioned below and had zero issues, no shrinkage whatsoever. The items came out fresh and fluffy and ready to be put back to use.
The hood is one thing that lets the hoodie down in my opinion. Because of its' design, it tends to sag and gets in the way unless repeatedly positioned away from the forehead. I think this is because of the properties of the Alpaca material and the hood design.
I believe that if the hood was created out of three separate panels rather than two it would give the hood more structure and keep it out of the eyes.
Pockets – There Aren't Any
Aside from adding a little weight and minimal cost I see no reason not to have added a simple kangaroo pocket to the front of the hoodie. Having a place to keep cold hands or to quickly store a pair of gloves would be really nice.
I feel the addition of thumb loops to the All-Paca hoodie or any similar mid-layer would be a nice touch. It's not much extra work but adds in a ton of functionality. When you pull on a shell layer over the top the sleeves stay in place. The material being held in place at your wrists keeps your hands warmer.
If people don't like them they don't have to use them but please manufacturers, give us the option.
Plastics, Organics, Sustainability and the Environment
Not talking about the problem with plastics and sustainability in 2020 would be a crime.
Outdoor gear, buying and owning too much clothing, life in general in modern times. All of these things aren't great for the environment and it's up to us to do our part.
I believe in buying high quality items that will last and not buying more than you need.
One of the big problems with washing synthetic (plastic) garments is they release microplastics into the water. With a natural fabric such as Alpaca or Merino Wool, the fibers they release are not super harmful. They also break down over time like any other organic material.
Sure a lot of companies are using as much recycled material as possible (Patagonia), but these products are still made of plastic. And when washed, microplastics do get into the water.
All-Paca Fleece Beanie and All-Paca Fleece Gaiter
Along with the hoodie, I tested an All-Paca fleece beanie and an All-Paca fleece gaiter. I've been testing out both of these products alongside the hoodie and have been quite impressed. The material is extremely soft and not itchy, and having accessories made of Alpaca really suit active endeavors.
The same benefits of the Alpaca material makes the All-Paca Fleece Beanie well suited for active endeavors. I hiked and ran in the fall and winter here in Helsinki, Finland. Running is always a good testing ground. Despite running in temperatures dipping below zero, I generate a huge amount of body heat. I want breathable layers that keep me warm but not too warm.
The beanie did just that.
On longer runs, I'd develop a good sweat. The beanie would soak up a lot of that moisture and start dissipating it. I'd get home and only then realise it was wet. It had been keeping me warm whilst being wet, and I didn't even realize it. It would be dry within about an hour and didn't start to stink or need to be washed after many weeks of regular use.
Gross but you wanted the details right?
From a stylistic standpoint, I'm always going to prefer a beanie with a rollover "cuff" design as I think they look better. But, the streamlined design of the All-Paca Fleece Beanie is arguably more functional. It can easily be layered underneath a climbing helmet or other hat.
The All-Paca Fleece Gaiter does the all important job of keeping your neck warm where heat tries to escape out of the top of a jacket. It has a Wild West Bank Robbery Cowboy design that can be pulled up onto the face and still insulates the neck.
I'm a huge fan or a merino wool Buffs and bring one on every trip. They do the same job and more as the All-Paca Fleece Gaiter. Fortunately, Appalachian Gear Company make an Alpaca Neck Tube. BOOM
In the coming months, I'll be putting together a comprehensive guide to the best mid-layers for active endeavors. But here are a few other great competitive options for the Appalachian Gear Company All-paca fleece hoodie.
Melanzana
One of the go-to cottage industry mid-layers. The "Mellie" hoodies are sought after items that boast one of the best warmth to weight ratios on the market. Fit and finish is superb. Excellent hood and hand warmer pocket. It uses Polartec Micro Grid (exclusive to Melanzana) material. A grid like pattern that has channels for heat and moisture to escape.
The medium size weighs 11.5 oz / 327g.
They are made in the USA.
And you can be part of the UL gram counter small pack club if that's your thing.
However, like all of the other competitive options here, the Melanzana Hoodie is made of synthetic materials and will start to smell when used for active endeavours.
Cheap Generic Fleece
I'm always going to be reminding people that they don't HAVE to spend a huge amount of money on every piece of gear for ultralight backpacking. A cheap, generic fleece is always going to be a functional piece of gear in the backcountry.
It may be produced in places where employees aren't treated fairly. Quality may be sub par, and fit and finish may not live up to these other competitive options.
The example I have here weighs 15 oz / 430 g but much lighter ones can be found for very little monies.
North Face Glacier 1/4 zip
An affordable, functional mid-layer. The North Face Glacier zip is one of the best selling fleeces of all time. It's a well made, no frills fleece that weighs just 11.4 oz / 323g.
It's a step up in quality from the "generic fleeces" I mentioned above but still more affordable than the App Gear Hoodie or a Melanzana.
Patagonia R1
A mainstay in Patagonia's line up for many years, the R1uses Polartec Power Grid (similar to Melanzana's Micro Grid). There are options to have a hood or not, or a quarter zip vs a full zip. The lightest version weighs 11.7 oz
Pro's & Con's and Final Thoughts on the All-Paca Fleece Hoodie
Pro's
Extremely Breathable

Lightweight

Similar properties to merino – Anti-odor, Warm when wet, Resistant to fire (unlike synthetics)

Extremely Cozy
Con's
Hood isn't great

No Pockets

No Thumb Loops

Fit / how you layer it must be considered
Despite there being a few legitimate cons, the All-Paca Fleece is one of my all-time favorite mid-layers for hiking.
It excels as an active insulation layer when backpacking, but it's so comfortable I've been wearing it around the house every day since I got it.
Check the sizing and understand this is not meant to be a figure-hugging garment. If you're looking for that then size down.
It recently won Backpacker Magazines' Editors Choice Award – A great achievement.
Go buy one now, you won't regret it.
Now I'd like to turn it over to you:
Did I miss off an important feature? Do you own an App Gear Hoodie? Love it? Hate it?
Let me know by leaving a comment below right now.
Shop the All-Paca Fleece Hoodie Here
Facebook Comments