Having received a few questions I want to share my Appalachian Trail food list. Food on a thru-hike is an important part of the puzzle. First of all, let me just say that in no way is the food I will be eating on the trail healthy, it's not, far from it. I'm going to highlight the main considerations and elaborate on each briefly.
How Many Calories Does The Item Provide?
Hikers burn up to 6000 calories during a day of hiking, multiply that by potentially 180 days on the trail, that's A LOT of calories. I'm not going to calculate exactly what I need to eat each day to get the calories in, I'm just going to prioritize high-calorie foods and make sure I'm eating plenty of them. If I'm losing weight and feeling low on energy I'll take that as a sign to eat more.
How Much Does It Weigh?
Weight, in general, is a huge consideration on the trail and food is heavy- Fresh fruit and vegetables are full of water and thus heavy, they also provide very little calories relative to their weight. They won't have much of a place in my pack but I will try to eat my fill whilst in a town.
When selecting my food ill aim to get the highest calories for the least amount of weight. Think peanut butter, olive oil, and nuts and seeds. If you want to read some tips on how to save weight in your backpack, click to check out this post.
---
How Easy Is It To Prepare?
Fresh fish over the fire, scrambled eggs for breakfast and sauteed vegetables sound great. In reality, that kind of cooking is time-consuming, messy and labor-intensive. Great for a weekend hike, not so much for a thru-hike.
Quick and easy is the idea
Boil water and dump in the food to rehydrate
Unscrew the Nutella and grab your spoon
Rip open the wrapper and chow down
You get the idea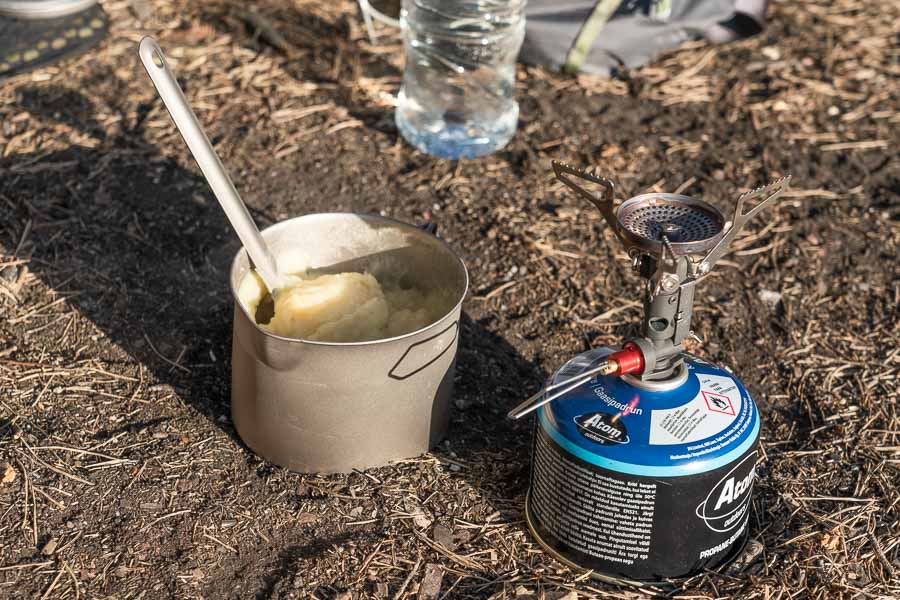 Easy Cooking Is Essential With an Ultralight Cook System
---
Will It Still Be Edible After Being In A Backpack For Four Days In Hot Summer Temperatures?
I'll be entering a town or visiting a gas station to resupply every four to five days. Therefore my Appalachian Trail food list has items that don't need refrigeration. When leaving a town ill bring some fresh fruit and possibly some restaurant leftovers and eat them within the first 24 hours. This minimizes the chance of spoilage and also the amount of time that heavier food is carried.
Other Things To Note
I'll be taking a daily multivitamin as well as cod liver oil and glucosamine sulfate to help with the ol' knees
I'll be using protein shakes to help with recovery
When in towns I'll be eating as much real, healthy food as possible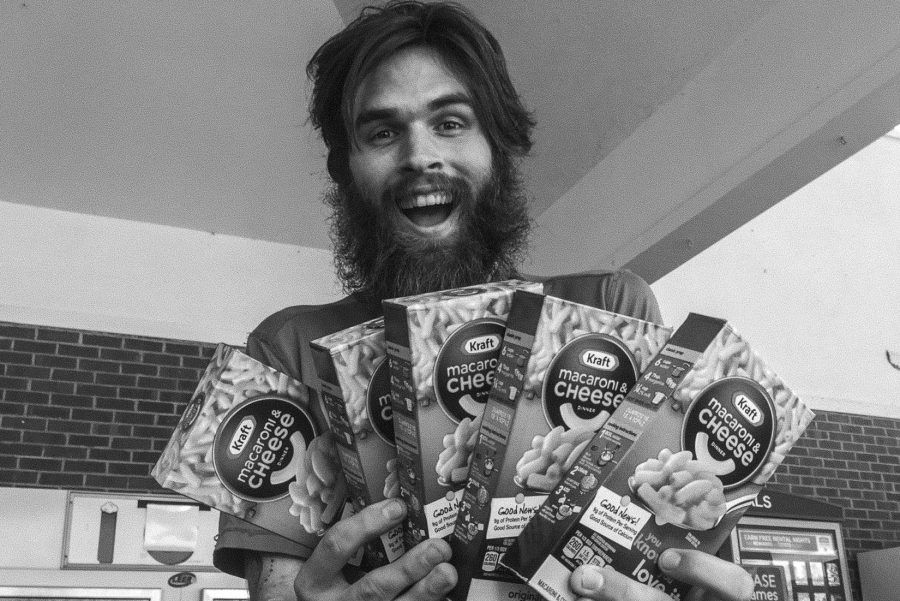 ---
My Appalachian Trail Food List
Breakfast – Granola with powdered milk, fruits, and nuts added and an instant coffee.
Morning Snack – Two "bars" ie Granola bars, Snickers, Energy bars, etc
Lunch – Two large tortillas spread with Peanut butter and/or Nutella and Potato Chips
Afternoon Snack – Large handful of trail mix (nuts, seeds, dried fruit, chocolate chips)
Dinner – Two packages of dehydrated noodles, one pouch of tuna and a dash of olive oil for extra calories and some chocolate
Please remember this is just an example Appalachian Trail food list,  each time I resupply I'll add in as much variety as possible to keep things interesting.
To see a more up to date version of the foods I eat on trail in 2020 then check out this video series I made.
Want to see what my ultralight backpacking cook system looks like? Click Here
Thanks for reading
Pie
Facebook Comments