In this review, I'm going to be comparing two models of Bedrock Sandals, The Classics, and The Cairn Pros.
I'm a big proponent of the "barefoot movement" and try to spend as much time as possible without anything on my feet. This often isn't practical so I've tried a lot of different barefoot-style shoes. Vibram Five Fingers, Merrell Trail Gloves and other brands of Barefoot Sandals.
For long-distance hiking when I need more protection I turn to Altras Lone Peak series of running shoes. For a more casual shoe, I can wear to the pub or a restaurant I wear Vans Era's (which are zero drop). For everything else, I use Bedrocks Sandals.
I got my first Bedrock Sandals (Classics) for the Appalachian Trail in 2015. I bought them to be my camp shoes and fell in love with them immediately. We took it easy on the AT and I feel like I spent as much time in my camp shoes as in my hiking shoes. In camp at the end of the day, in Walmart picking up a Ressuply or in New York City when we headed off for some sightseeing.
The Classics are the thinnest and lightest model Bedrock Sandals make. They are meant for running when you want the most ground feel.
The Cairn Pro adventure sandals are more robust and fully featured. They are designed for supreme grip in wet conditions or when you want a sandal with more protection.
---
Specs Comparison
Weight:
Classics (pair size 9) – 9oz
Cairn Pro's (pair size 9) – 18oz
Cost:
Classics – 78 dollars
Cairn Pro's – 115 dollars
Sole Thickness:
Classics – 7mm or 9 MM
Cairn Pro's – 14mm
---
Straps and Adjustment Method
The straps are very different between the two models. The straps on the Cairns are 3/4 inch wide and have a lot more going on, the Classics are more simple and 1/2 inch wide.
The Classics have a basic adjustment method with one slide buckle that adjusts the sandals in two directions. It can be quite fiddly so I only adjust them once in a while and pull them on whenever I wear them. Although the straps are narrow I've never found them uncomfortable. I love the use of bicycle inner tubes on the inside of the strap to help keep them in place.
The Cairn Pro adventure sandals have a much more sophisticated adjustment system. There is a hook and loop adjustment at the heel and a metal hook on the inside of the foot that you can move into a few different positions. I adjusted these two points when I first got the sandals and have not needed to adjust them since.
The main adjustment point is a plastic slide buckle that is super quick and easy to adjust. I loosen this off each time I take the sandals off and tighten it up when I put them on. It provides a dialed-in fit.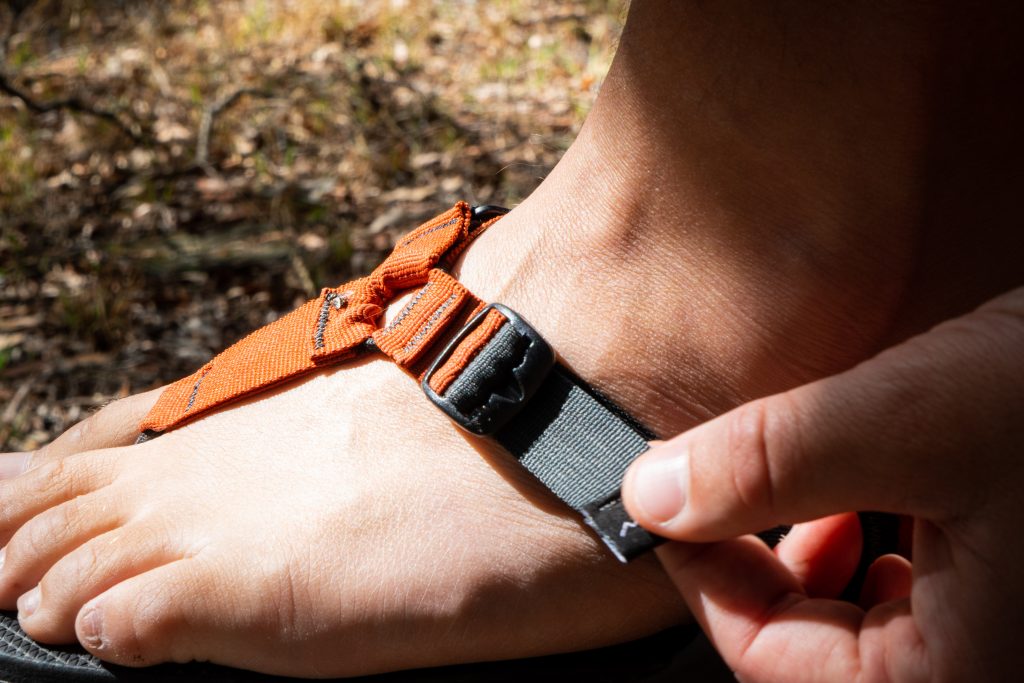 Both the Models of Bedrock Sandals have a piece of paracord that sits in-between your toes and is more comfortable than you may think. I've never had rubbing issues in either of the models.
Both the Models are comfortable but I prefer the quick and easy adjustment of the Cairn Pros.
---
Soles
The soles on the classics are 9mm or 7mm thick depending on what you order and the cairns are 14mm's thick. This may not sound like a big difference but is really noticeable when you wear them.
The sole on the Cairns' has been made for Bedrock by the experienced people at Vibram to provide traction in wet conditions. I find the Cairn Pro's to grip well but the sole is not as flexible as the Classics and doesn't give the same "ground feel". It does give the foot more protection against sharp rocks though.
The Classic's make you feel connected to the ground you're walking on and you only feel the sharpest of rocks. They conform to your feet well and a lack of grip has never been an issue for me.
This picture shows the ware on my Classic's after a year of regular usage, they still have plenty of use left in them. I do feel the Cairns will last longer but either way Bedrock Sandals offer a "Re Souling" service. You can have the soles replaced on any of their sandals for less money than a brand new pair.
The Sole of the Cairn Pro's is nicer over rugged terrain but I like the ground feel of the Classics, hard to pick a favorite.
---
Foot Bed
The footbeds on both are very grippy and comfortable. The Cairn Pro's feel more plasticky and the Classics feel slightly rougher, they are made of Nylon but feel like some kind of natural material. I don't have a preference for either, they both feel great for extended periods of use.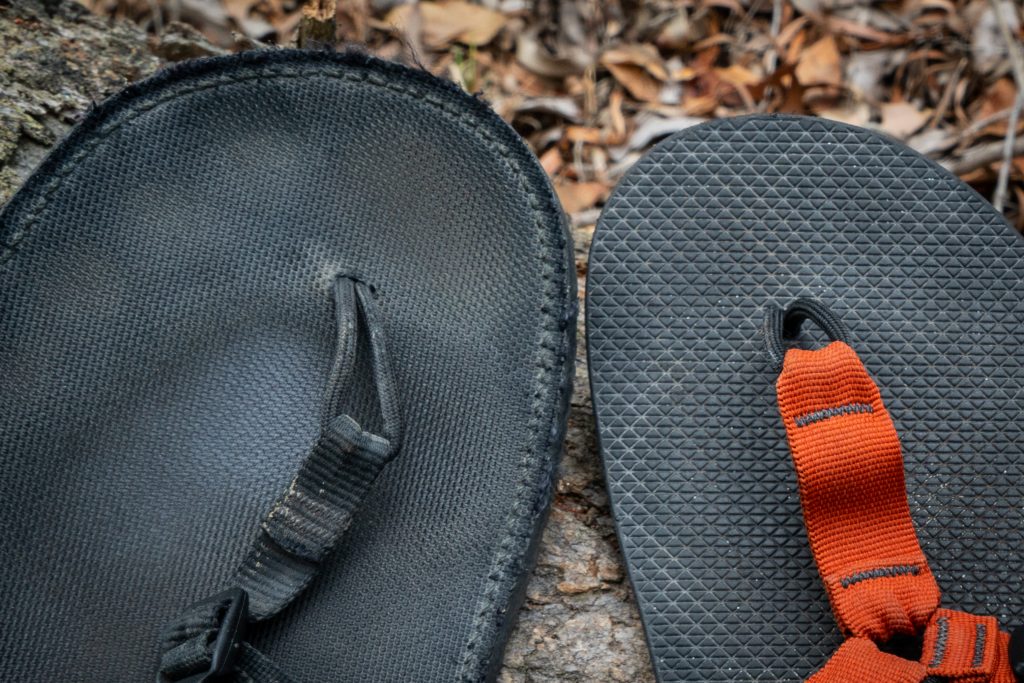 The Appearance of the Two Different Models of Bedrock Sandals
The Bedrock Cairn Sandals look better in my opinion. People are used to seeing "adventure sandals" that look similar to The Cairns such as Chacos or Teva sandals.
The Classics suggest you spend a lot of time at farmers' markets and earth gatherings. There is nothing wrong with that but for traveling or around town I prefer the appearance of the Cairn Pros.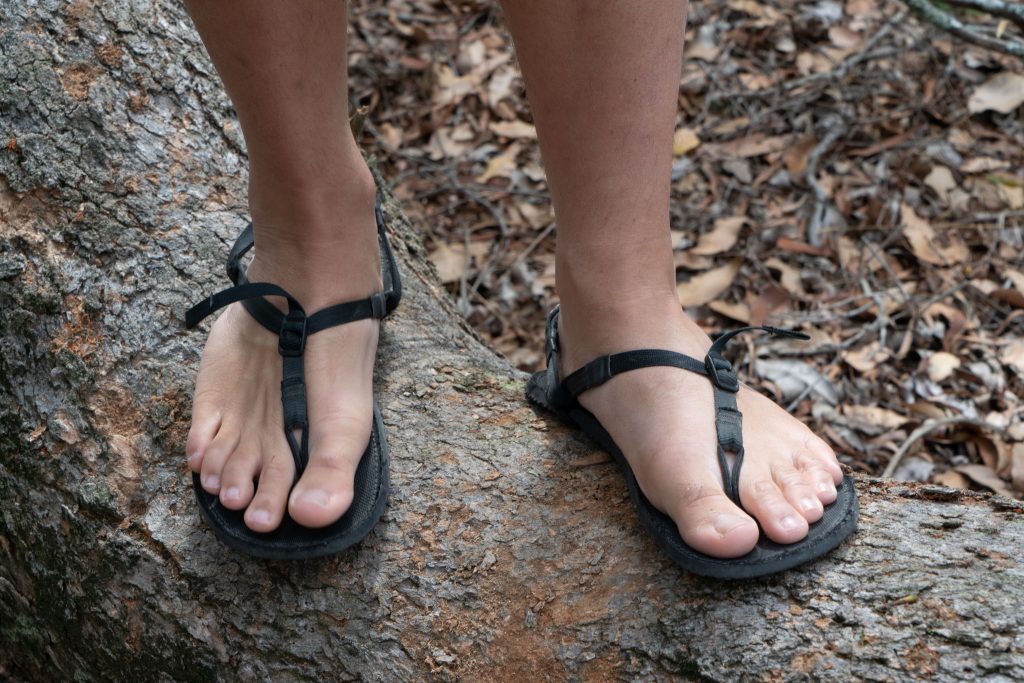 It's difficult to compare these two models of sandals as they are designed for different purposes.
I use The Bedrock Cairn Sandals around town or when traveling because they look better and blend in more. With the heavier duty construction and thicker sole, I prefer them for adventures in rugged terrain that doesn't justify a fully enclosed shoe.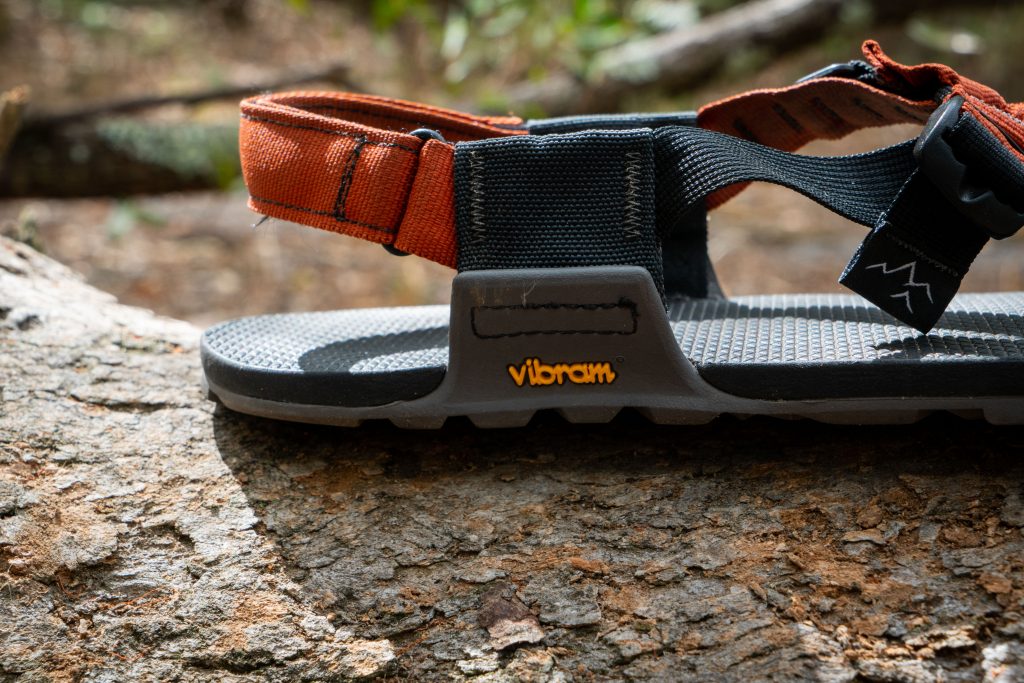 The Classics are my go-to sandal for ultralight adventures and travel when I need to watch the weight. When I'm hiking in Altra Lone Peak shoes (reviewed here) I love having the classics to slip on in camp or in towns. I don't always use camp shoes but when I do it's the Classics.
Bedrock Sandals produce a couple of variants of the Cairns. The "non-pro" version of the Cairns is exactly the same but the sole isn't as adept at gripping in wet conditions. Choosing these will save you 10 dollars. The other model of Cairns is the "Cairn 3D" which has a sculpted footbed similar to those found on Birkenstock sandals. This is something I'm not interested in because I want all of my footwear to be as flat and "barefoot" as possible.
I love both variants of Bedrocks I own but If I could only own one pair it would be the Classics
For me, it comes down to the weight and cost of the sandals. The Classics are only 9oz for the pair compared to 18oz for the Cairn Pro's, exactly half the weight. If I'm hiking or traveling I want to be carrying as little weight as possible.  I try to travel hand luggage only so having the lightest possible option is usually my preference. The Classics also basically do the same thing as the Bedrock Cairn Sandals at around two thirds the cost.
I hope you enjoyed the review, go out and grab yourself a pair of Bedrocks, you'll love them.
Check out my video review here
Check out more of my gear guides here
Thanks for stopping by
Pie
Facebook Comments