Best Backpacks For Thru-Hiking – (Advice From an Actual Thru-Hiker)
Finding the best backpacks for thru-hiking can be a difficult process with so many companies making great products. The specific requirements thru-hikers have for a backpack is what I'm addressing in this article. This is aimed at first-time thru-hikers or those looking to lower their weight on their next long hike.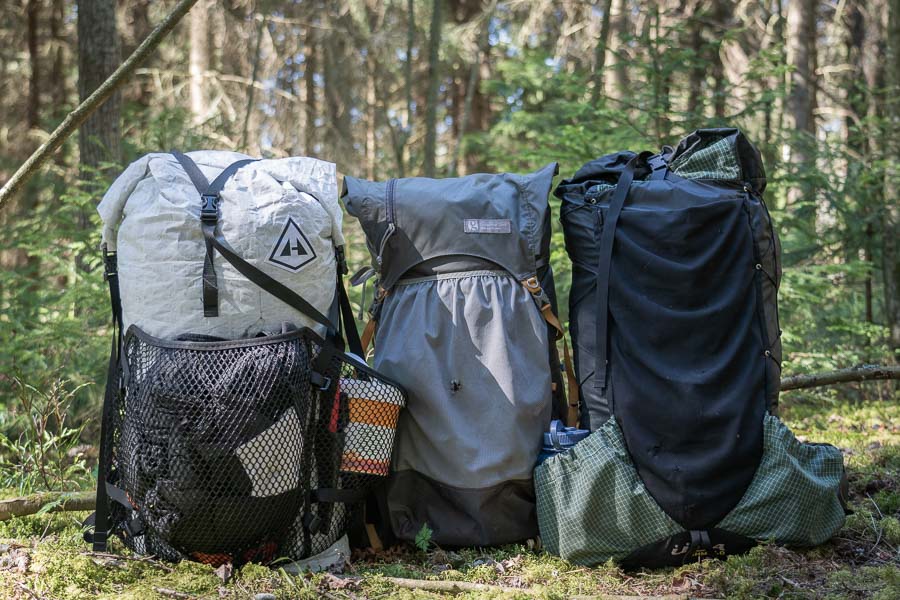 3 of the best backpacks for thru-hiking – HMG Windrider, Gossamer Gear Gorilla and ULA Ohm 2.0
Although there are slightly different requirements for each trail, the advice given here is applicable to The Appalachian Trail, Pacific Crest Trail, and the Continental Divide Trail. Or any other similar long hike.
This is not about the lightest, smallest, super ultralight backpacks because in my experience these packs don't work for MOST people on MOST thru-hikes. For fair-weather hikes where you have minimal gear, or if you're a seasoned pro then sure.
I'm also not covering heavy, overbuilt packs you'll find in the average outdoor gear stores. These aren't the best option for thru-hiking (or much else).
BUT, if you're looking for a backpack that can comfortably handle 6 days of food, gear for temperatures down to 10f/ -12c and will last for at least 3000 miles of trail time, then check out my advice and recommendations below.
All the backpacks in this article have actually been used whilst thru-hiking by me or one of my hiking partners.
Why I'm Not Talking About Packs From The "Big Name" Brands You'll Find in Outdoor Stores
There are two reasons:
Too Heavy
Shopping for thru-hiking backpacks in your local gear store isn't the best idea. Almost all the options they'll offer will be well over my recommended max weight of 35 oz / 992g.
It's not to say these are bad backpacks, they're not. They are just too heavy for thru-hiking and give you a bunch of durability and extra features you simply do not need.
Light Ones Are Badly Designed
You may find "lightweight" and "ultralight" options offered from some of these big brands but I'd still be hesitant. These backpacks will be lighter than their heavy weight options but still often well over that weight recommendation.
Also, in my experience, the functionality and features of these packs from the big names pale in comparison to lightweight backpacks built by smaller, cottage companies. They just don't seem as well thought out.
Why I'm Not Talking About Frameless, Hip-Belt Less Backpacks For Thru-Hiking
The progression to ultralight backpacking gear is great and I highly advocate it, BUT…
I've seen lots of thru-hikers on trail with tiny, frameless, hip belt-less packs that seem miserable. Here are a few things I've seen.
The pack is so small they have to cut corners and bring gear that may not always work on a thru-hike with varying conditions. A quilt that's not quite warm enough, a shelter that works ok but not great in bad weather and small bear cans that definitely won't hold five days worth of food. These are just some of the examples.
They have all the necessary gear but when packing out food for 4-6 days they can't fit it all in the pack without it being a lumpy, uncomfortable mess. Then there's a dry stretch where they need to carry four liters of water and the packs' weight is all resting on their shoulder straps..
I'm not saying it can't be done, but most people will be more comfortable with a slightly heavier backpack that handles gear for varying conditions as well as 4-6 days of food.
If your base weight is low enough then stay tuned for an upcoming article on frameless, hip belt less backpacks.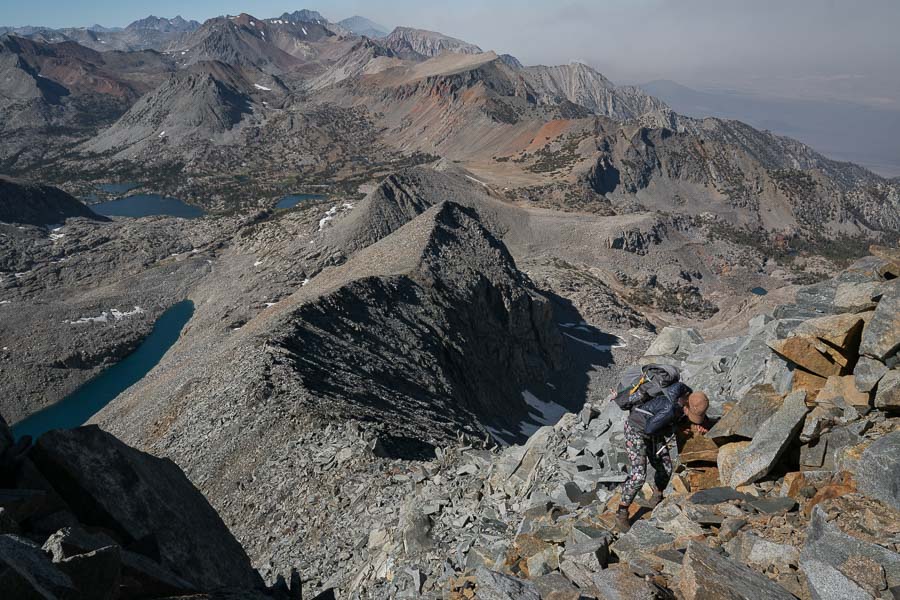 Gossamer Gear Gorilla in the High Sierra
I'm Only Talking About Packs That I Have Either Personally Used or That Hiking Partners Have Successfully Used for 1000's of Miles
With over 5000 miles under my belt and way too much geeky obsession over backpacking gear, I feel in a strong position to give advice on gear. In this article, I only want to recommend packs I have solid trail time with, or that a close hiking friend has used and abused, as in one case below.
I trust these packs for thru-hiking and you should too.
Thru Hiking Backpack Size – AKA Carrying Capacity
Thru hiking backpack size is one of the most important considerations when shopping around. The two main factors that influence a packs volume are:
The gear that will live in the pack all the time
This is essentially all the components that make up your base weight. When thru-hiking, it's normal for conditions and temperatures to change throughout the hike. This change means you want to have gear with you that can work in the warmest temperatures you'll be dealing with as well as the coldest temperatures. You may need your backpack to carry a bear can through certain sections. You may not need a tent for weeks but then be hit with daily storms.
The point is the pack needs to carry all of your gear comfortably.
AND
How much food do you need to carry?
On certain sections of the Appalachian Trail, you can carry food with you for as little as two days as you hit towns regularly. On the Continental Divide Trail, we had to carry enough food for six days on multiple sections. Food is heavy and bulky.
With these two factors combined, we can estimate our thru-hiking backpack size requirements.
For a gear setup that covers a wide range of conditions/temperatures AND can carry up to six days of food (relatively) comfortably, you should look at a backpack in the range of 40 – 55 liters.
Much smaller than that and you may struggle to fit everything in, any bigger probably adds unnecessary weight.
Gear bought from outdoor stores will be much bulkier and heavier than the gear I recommend for a lightweight thru-hiking setup. It will probably not fit into a backpack that's 40 liters with five days of food.
If that's the case then you need to start looking at all of the rest of the gear you'll be using. Check out this post for some of my recommended gear.
Everything needs to fit plus however much food you need to carry
Ultralight and lightweight backpacks come in a range of different materials. The best materials are lightweight, water-resistant, and decently durable. I don't have a strong favourite but here are some of the options and some of their positives and negatives.
Dyneema Composite Fabrics (formerly Cuben Fibre)
One of the lightest fabrics on the market that usually comes with a heavier price tag than other fabrics. It is often blended with other materials to increase abrasion resistance and manufacturers use Dyneema Composite Fabrics (DCF) in varying thicknesses. The fabric itself is waterproof.
In use, it is durable and works well. White coloring shows dirt quickly, thin DCF can be susceptible to abrasion.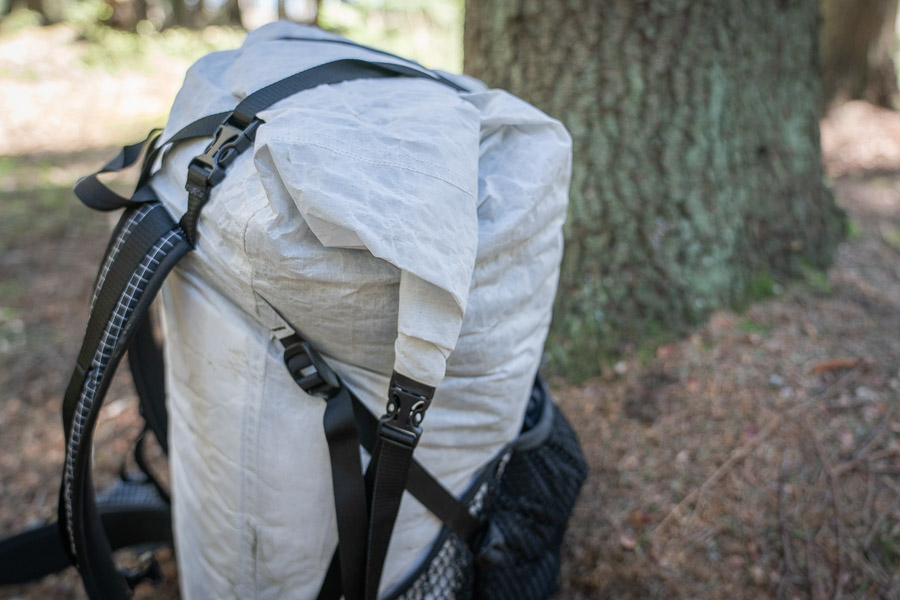 Dyneema Composite Fabric (DCF) is used for Hyperlite Mountain Gear backpacks
Ripstop Nylon
There are endless different types of ripstop nylon and it has been widely used in the outdoor industry for a long time. It's known to be tough and relatively affordable and using the right weave and thickness makes for low weights. Ripstop Nylon is not waterproof but is often treated with a water resistant finish to make rain bead away.
Different types of Ripstop Nylon found below on the Gossamer Gear Backpacks and the ULA Ohm 2.0
In use, it is flexible and effective. Thinner ripstop nylon can be susceptible to abrasion.
Durability is derived from fabric choice. As a general rule of thumb, the lighter weight the material the less durable the backpack will be. For thru-hiking it's ok to make a slight trade off for a less durable product that weighs less.
Heavier, beefier backpacks found at sporting goods stores use thicker materials that are usually unnecessarily heavy duty and thus weigh a lot more than the options laid out below.
The packs below will last at least an entire 2500+ mile thru-hike and usually much longer.
Because the features of a great thru-hiking backpack are so few they need to be spot on or the pack doesn't make the cut.
Solid Water Bottle Pockets – Each side should be big enough to hold two Smart Water bottles with some kind of elastic to stop them flapping around. They need to be easily accessible without taking the pack off.
Mesh Stuff Pocket – Not all mesh pockets are made equal. The mesh needs to be stretchy but not too stretchy, durable but not overbuilt and be sized to hold a good amount of stuff as well as a wet tent when necessary.
Shoulder Straps and Hip-belt – Comfort is key. Shoulder straps and hip belts need to suitably padded without being overkill. They should be of high quality and easily adjustable on the move. Weight transference to the hip-belt is key and having large functional hip belt pockets is a must.
Closure Method – A roll top closure that buckles at the sides is my personal preference but they all work.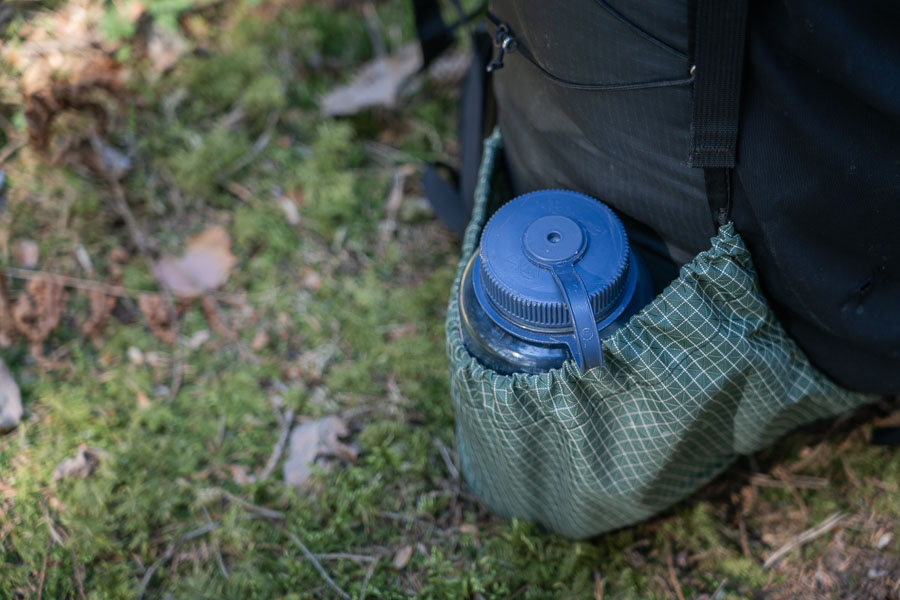 Good water bottle pockets are a must
Most backpacks come in multiple torso sizes and this is an important consideration. Measuring your torso size with a measuring tape and help from a friend will ensure you get a pack that's sized correctly. Simply measure from your Iliac Crest to the C7 vertebrae and choose the correct size option from the manufacturer.
A similar process can be undertaken to ensure you get the right size hipbelt.
The weight of a backpack for thru hiking is an important factor but its' suitably for the task at hand should come first.
A backpack that meets all the requirements I've outlined in this article should weigh no more than 35oz / 992g and some weigh a good bit less.
Are there other great backpacks available that are suitable for thru-hiking? Yes, absolutely.
However, I really wanted to give solid advice and recommendations for packs that I've either used personally for thousands of miles or that I've seen in detail over long periods of time. The demands put on a backpack for thru-hiking are much more intense than the average backpack that goes out for a few weekend trips a year and so they deserve a little more analysis and research before making a purchase.
Hopefully this article has helped you figure out a pack that's right for you.
Thanks as always for reading and if you want more articles like this sent straight to your inbox (and a copy of my free ultralight backpacking ebook) then enter your email address below. Cheers!
This site contains affiliate links. If you purchase something through one of these links it helps to support my work here at Pie on the Trail and doesn't cost you anything extra.
Facebook Comments