I've put together this article of the best puffy jackets because it's such a critical piece of clothing when ultralight backpacking. A good puffy jacket is not cheap but you'll be spending a lot of time in it. Chilly mornings when packing up your gear, cool evenings whilst cooking dinner and cold nights inside your sleeping bag or quilt. 
I'll go over all the elements that make a good jacket, talk about synthetic vs down and show 10 of the best puffy jackets on the market.
Down vs Synthetic
I stated in my recent ultralight backpacking sleep system post that down is a superior choice for a quilt or sleeping bag. For puffy jackets, however, synthetic insulation has its place.
Down jackets cost more money but will usually be warmer and more compressible. This means they will take up less space inside your pack. 
Synthetic jackets traditionally handle moisture better than down products. They would dry quicker and maintain more warmth when wet. Nowadays though, many manufacturers use hydrophobic down which makes it more water-resistant. This helps negate some of the susceptibility down had to moisture.
It's best to save your puffy jacket for in camp and when taking breaks. If you need a warm layer whilst hiking or in rain or snow, you would be better off with a fleece mid-layer.
Neither down or synthetics are better, both have advantages and disadvantages.
---
What Makes for a Good Puffy Jacket? 
Shell and Fill Materials
The Shell material of a good puffy jacket needs to strike a balance between low weight and durability. The Denier of the fabric denotes the thickness and thus weight and durability. Most jackets in this post are between 7-15 denier. A thicker denier jacket may be more resistant to tears when hiking through brush. In reality, you shouldn't be doing that on a regular basis.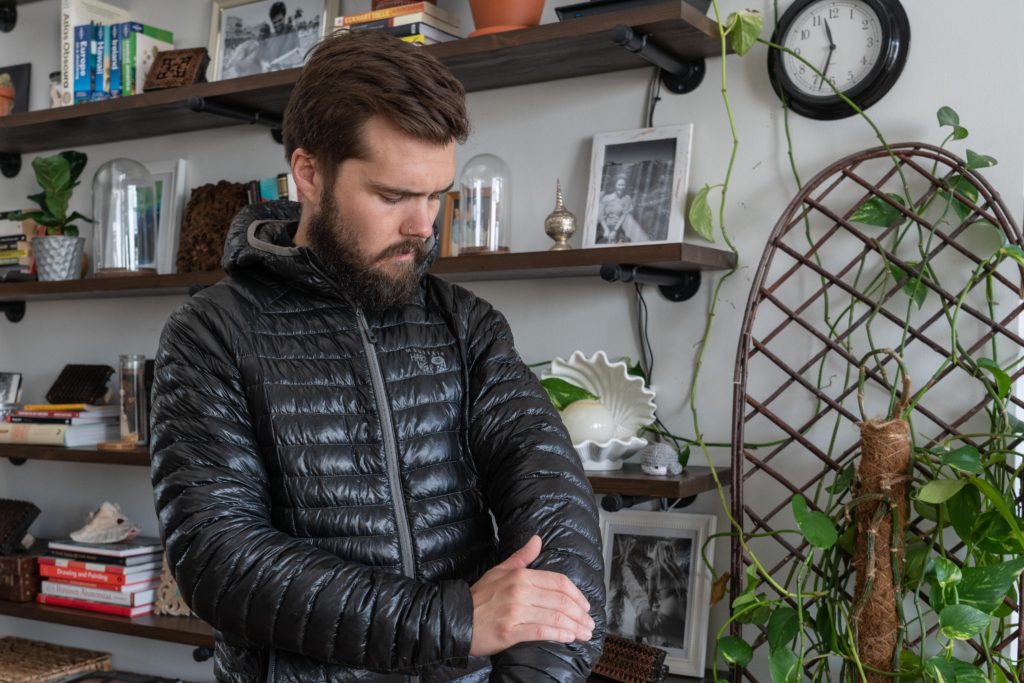 10 Denier shell fabric on the Mountain Hardwear Ghost Whisperer
The fill material of a jacket determines how warm a jacket will be. Common synthetic insulations are Climashield APEX, Primaloft Gold and other propriety fabrics such as Patagonia's Plumafill. All have similar properties, good warmth to weight ratios and the ability to handle moisture.
Goose Down jackets should have a fill power of 800 or above. Many manufacturers have switched to water-resistant down such Nikwax or Downtek. These handle moisture better than traditional down and also negates a lot of the "down vs synthetic" argument.
Warmth
Warmth is the main reason we carry a puffy jacket, but the warmth of a jacket is surprisingly hard to measure. Manufacturers don't give their jackets temperature ratings like they do sleeping bags. The only distinction is usually between a "lightweight insulated jacket" and a "winter parka". We are of course focusing on the lightweight insulated jackets. The warmth of a lightweight jacket depends on the insulation material and the amount of insulation, as well as the baffle design.
A jacket that uses more insulation will be heavier so we need to strike a balance between warmth and weight. The baffles (see picture below) is how the insulation is held in place inside the jacket. It is also how heat escapes from the jacket, especially in windy conditions. Some synthetic jackets such as the RAB Xenon don't use baffles at all. The insulation is a flat sheet of material sandwiched between the shell material.
My advice is to try a few different jackets to see what's warm for you. 
Baffles on the RAB Proton Jacket
Weight
Weight as always is a major consideration for ultralight backpacking and thru-hiking. The shell material, design and fill material of a jacket determines the weight. Heavier jackets may or may not be warmer, it's a hard thing to measure. Look at different jackets side by side. Usually, the "puffiest" one will be warmer and may be worth the extra weight. A good benchmark for a three-season, ultralight puffy is a weight below 13oz/370g.
Hood
Many puffy jackets are offered with or without a hood, I always opt for a hood. A few grams of weight saving by doing without a hood is not worth it.  A hooded jacket makes a huge difference by keeping your neck and the back of your head warm and can be used in conjunction with a warm hat and/or the hood of a sleeping bag.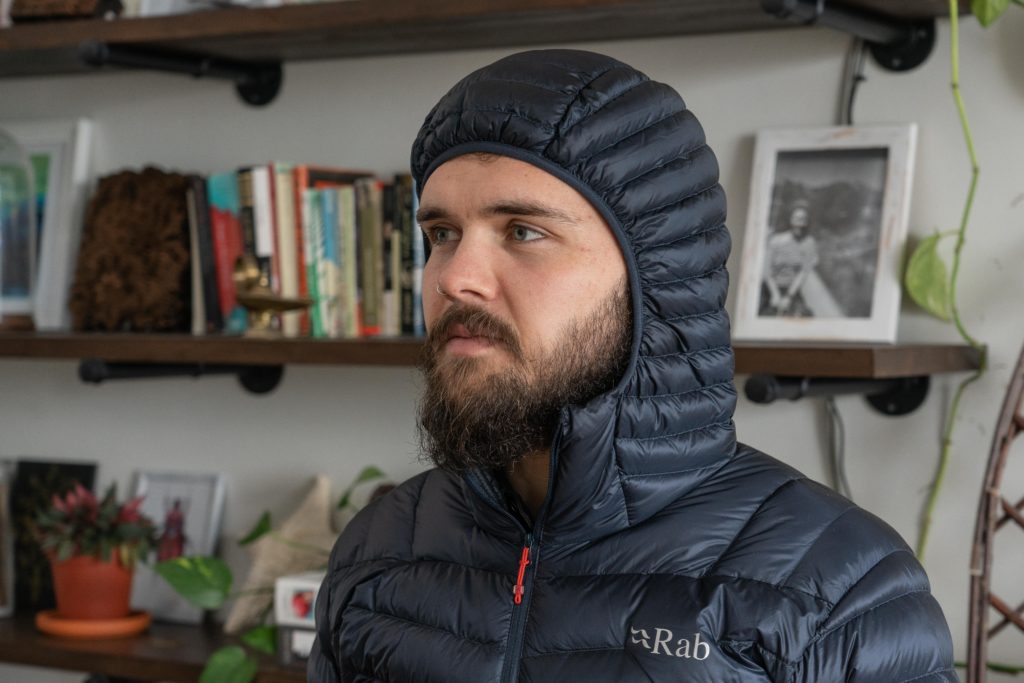 Hoods on an insulated jacket are well worth it
Pockets
Two good handwarmer pockets are all that's necessary on a puffy jacket. They are a great place to store a hat when the jacket is in your pack. I also often sleep in the jacket and put camera batteries and stuff that needs to stay warm in them. Standing around camp, it's nice to put your hands inside the pockets to keep them warm.
Price
Puffy jackets are a financial investment and the price can fluctuate a lot. A synthetic jacket will almost always be cheaper starting around 170 USD. Down is more expensive and you can pay anywhere from 230 USD upwards. Look at the features you need from a jacket, shop around and purchase the jacket that's right for you. A good jacket will last thousands of miles of hiking and is an integral part of any clothing system.
Fit
A puffy jacket should fit quite snug to avoid dead air spaces. If you'll be wearing a mid-layer underneath it then go a size bigger. I usually only wear a base layer or hiking shirt underneath mine. Elastic cuffs and hem are fine but having an elastic drawcord at the hem helps block drafts and stops the jacket riding up.
Snug fitting but not too tight
---
10 of the Best Puffy Jackets for Ultralight Backpacking
Now I've gone over the important aspects of a good puffy jacket, it's time to look at ten of the best options on the market. There are a lot of good jackets on the market so do your research thoroughly to make an informed purchasing decision.
RAB Proton 
Weight – 11.8OZ – 335g
Fill – 800 Fill power Nikwax water-resistant down
This new offering from UK manufacturer RAB, ticks all the right boxes. It's not the lightest jacket on the list but it's extremely puffy and therefore warmer than some of the others. It uses hydrophobic down to deal with moisture on the trail and the price is competitive. The stitch-through construction is designed for good mobility. It has an excellent hood and handwarmer pockets. It's my go-to jacket this summer.
---
Mountain Hardwear Ghost Whisperer 
Weight – 8OZ /227g
Fill – 800 Fill power Q Shield water-resistant down
A favorite amongst ultralight backpackers and thru-hikers for its low weight. It doesn't seem as lofty as some other UL jackets but it's good for three three-season backpacking. It packs down small and has a good hood and pockets. The shell material is a 7 denier fabric that helps the jacket maintain it's low weight and the water-resistant down makes it a top contender.
---
Western Mountaineering Hooded Flash
Weight – 10.35OZ / 294g
Fill – 850 Fill power down
Western Mountaineering is known for their sleeping bags and insulated garments, starting out in the 1970s. The Hooded Flash Jacket is their lightest jacket that includes a hood and is a simple yet effective insulating layer. Their products are handmade in the USA and will stand the test of time.
---
Montbell PLASMA 1000 Alpine Down Parka
Weight – 8.4OZ / 238g
Fill – 1000 Fill power down
The only jacket on the list to have a fill power of 1000, the Plasma is a puff monster and one of the warmest jackets on the list. It has a hefty price tag, but this ultralight jacket from Japanese manufacturer Montbell is cutting edge. They use a 7d nylon shell material that's soft to the touch and water repellent. It has a great hood and disappears inside a backpack.
---
Enlightened Equipment Torrid
Weight – 8.4OZ / 238g  (varies on size and shell material chosen)
Fill – Climashield Apex Synthetic Insulation
Shop Here at Enlightened Equipment
Enlightened Equipment makes great ultralight quilts and a few years ago released their first insulated jacket, The Torrid. It's the cheapest jacket on the list but you get a lot for your money. Climashield Apex Insulation, ultralight 10d or 7d shell (your choice), over 15 colors to choose from and the option to order without the hood. If you want a killer jacket and you're on a budget then the Torrid is a no brainer.
---
RAB Xenon X
Weight – 12OZ / 340g 
Fill – Primaloft Gold Synthetic Insulation
Another offering from RAB, this synthetic jacket is breathable and works well in damp conditions. Its design is similar to the Enlightened Equipment jacket. Using a single sheet of insulation and doing away with any baffles. It's the jacket I used for the Appalachian Trail and the Continental Divide Trail and I was very happy with it.
---
Feathered Friends EOS
Weight – 10.6OZ / 301g 
Fill – 900+ Fill power down
Shop Here at Feathered Friends
Feathered Friends make high quality down sleeping bags and garments in their facility in Seattle. The EOS comes in a men's and women's version with a few different color options. The use of 900+ fill power down and ultralight Pertex Quantum shell material helps the jacket weigh in at a respectable 10.6OZ / 301g. This solid, no-frills jacket is an investment but will serve you well for many miles.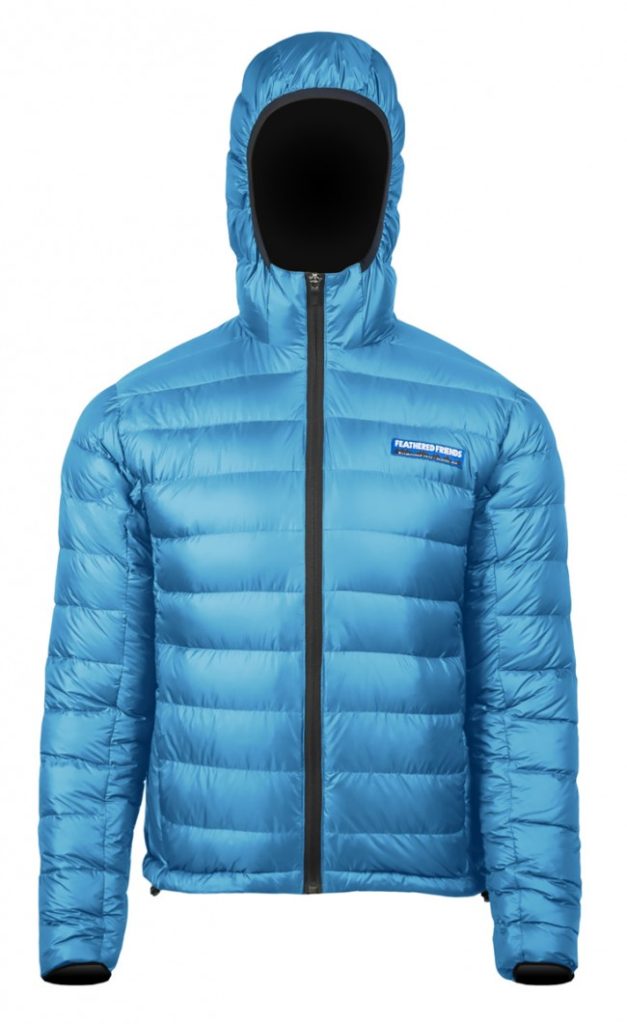 ---
Patagonia Micro Puff
Weight – 8.3OZ / 235g 
Fill – "Plumafill" Synthetic Insulation
The latest evolution of Patagonia's "puff" series of jackets has the best warmth to weight ratio of any jacket the company has produced. Proprietary "Plumafill" synthetic insulation stays warm when wet and the weight of the jacket is low. It's not as puffy (or possibly as warm) as other jackets on the list but is a great option for warmer trips when you want to keep the weight as low as possible.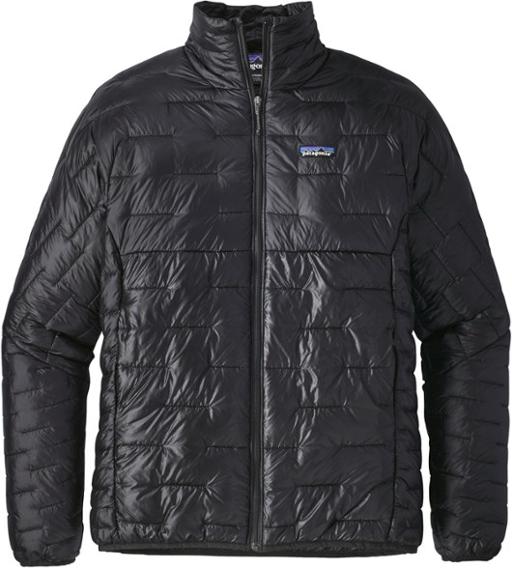 ---
Nunatak Skaha UL Down Sweater
Weight – 10.4OZ / 295 (varies on size and fill options chosen)
Fill – 900 fill power down (water resistant down available)
If you're looking for a fully customizable, hand made product then look no further than the Skaha Down Sweater from Nunatak. This pullover "sweater" is one of the many great offerings from this cottage manufacturer. Designed for warmth, simplicity and low weight, the Skaha UL Down Sweater is right at home on a thru-hike and is made in the USA.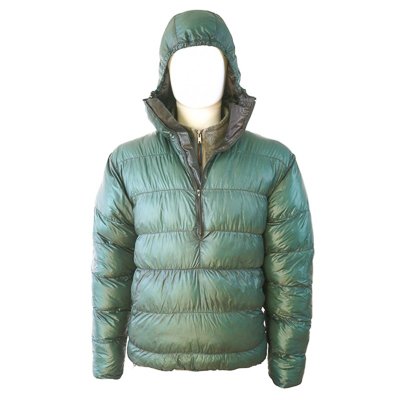 ---
Arc'Teryx Men's Cerium LT Hoody
Weight – 10.5OZ / 298g
Fill – 900+850 Fill power down
Arc'teryx is known for making high-end gear and the Cerium Hoody is no exception. Boasting great materials with a stylish finish, there's no wonder the Cerium is a popular choice for backpacking. With models for men and women and a low weight of just 10.5oz, Arc'teryx has created a really competitive option.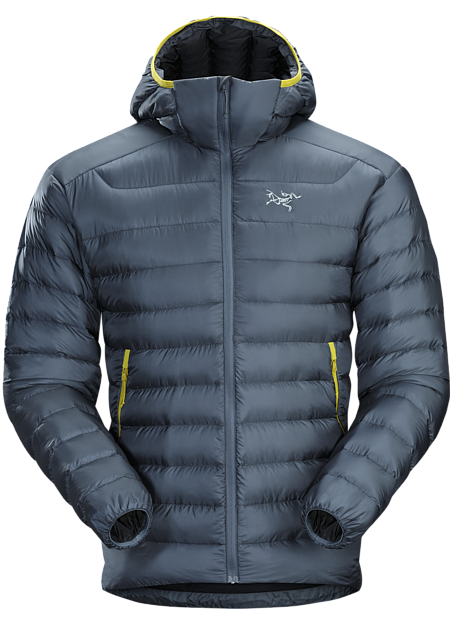 ---
Summary
Those are my top recommendations for the best puffy jackets for ultralight backpacking. There are a lot of amazing jackets on the market. Do your research and figure out what makes the most sense for you. Thanks for taking the time to read this article. Enter your email below to receive more UL gear reviews and comparisons straight to your inbox.
Check out my hiking clothing recommendations here
Check out the video that goes hand in hand with this article.
Cheers
Disclaimer – This post contains affiliate links. By clicking through and purchasing something you help support the work I do with pieonthetrail and it costs you nothing extra.
Facebook Comments