Gossamer Gear G4-20 Backpack Review
The Gossamer Gear G4-20 Backpack is a 42L frameless, ultralight backpack. It is a reinvention of one of the original ultralight backpacks from Gossamer Gear called the G4. Instead of a dedicated frame, the G4-20 uses the integrated butt pad/mesh sleeve back panel. This is a common feature on many Gossamer Gear packs and it provides some rigidity to this frameless pack.
The Gossamer Gear G4-20 has a padded, non removable hip belt to transfer weight to the hips. With a medium-sized G420 weighing 25oz, Gossamer Gear have created a great ultralight backpack. Best suited for people with a low base weight that don't feel the need for a frame
Shop the G4-20 Backpack at gossamergear.com here
Quick Stats
The pack comes in three sizes: Small, Medium and Large.
Weight
Small – 23.2 oz / 658 g – Sized for people 5′ 6″ and under, waist 25″ – 35″ waist (64 – 89 cm)
Medium – 25 oz / 709 g – Sized for people 5'5″ to 5'11", 30″ – 42″ waist (76 – 104 cm)
Large – 26.1 oz / 740 g – Sized for people 5'11" and up, waist (81 – 127 cm)
Materials
70D & 100D Robic Nylon available in two colors, Electric Blue or Titanium Grey
Recommended Max Carrying Capacity
30lbs / 13.6KG
Cost
180 USD – Shop Now at Gossamer Gear
My History with Gossamer Gear Packs
I hiked over 2000 miles on the Continental Divide Trail with the 55L Silverback. And 400+ hard miles through the High Sierra with the 40L Gorilla.
The G4-20 Interested Me For Two Main Reasons
1 – It is the first frameless backpack I've used from Gossamer Gear. But still has a good level of rigidity with the butt pad/foam support and a nonremovable, padded hip belt. I like the idea of a frameless backpack as it cuts down on overall weight. However, I still want to have a hip belt to help distribute weight to my hips whilst hiking.
2 – The G420 uses my preferred closure method for a hiking backpack. A roll-top closure with the option to secure at the side or the top of the pack. And a top strap to synch the load and strap down gear on the outside.
The main compartment of the Gossamer Gear G4-20 Backpack is as simple as it gets, one large compartment. No need for anything else in my opinion.
Although I like Gossamer Gears' fold over closure they use on many of their packs, I prefer the roll top closure they've used on the G420. I think it's easier to compress the load down. I like that you can secure the buckles at the sides or on the top depending on your preference.
Having a top synch strap helps further compress the load and is a solid place to attach a jacket or bag of potato chips.
I love that the side straps and top synch strap are easily removable so you can setup the pack however you like.
Having easily adjustable and removable side compression on the backpack is a nice touch.
Most ultralight backpackers will remove it completely. But, it's nice to have it as an option to compress the load. It also helps secure longer items like a tripod or fishing pole.
Gossamer Gear does a great job with mesh pockets. Stretchy but not too stretchy, reinforced with nylon at the bottom to reduce abrasion. You can fit a ton of stuff in there but it sits fairly flat when empty.
A nice feature they've added to the Gossamer Gear G420 is a zippered pocket for small items on the front of the pack. It's a good spot to store small items you want easy access to like gloves, car keys etc.
It adds a little weight and its possible to overstuff it and encroach on the interior of the bag.
Asymmetrical Water Bottle Pockets
Like one of GG's popular large volume packs the Mariposa. The Gossamer Gear G4-20 Backpack uses one regular height water bottle pocket and one taller one. Some people will love this and some people will hate it.
Being right-handed means I can easily grab my water from the right pocket whilst hiking (it's the regular height one). I'm pretty flexible so I can also grab stuff from the taller left pocket although some may struggle with this.
For the entirety of my Sierra High Route(s) Trip, I carried a half size tripod in one water bottle pocket. The tall pocket on the G4-20  makes a great spot for it.
The asymmetrical pockets will be a plus for some people and a negative for others. I like it.
Tripod in the taller of the two side pockets
The mesh sleeve/removable seat pad back panel is common on Gossamer Gear packs and a feature that I love. I made an entire video on the benefits of carrying a butt pad on the trail. On the Gossamer Gear G4-20 it's even more as it provides the rigidity/frame of the backpack.
The sit pad itself is a new design from GG. It uses a very thick foam with some cut-outs to increase breathability when hiking. When packed correctly the backpack is comfortable for long days of hiking. As long as you ensure you are under Gossamer Gears' recommend weight limit of 30lbs.
In my testing, I found it comfortable with a standard Ultralight/Thru-hiking base weight and three days worth of food.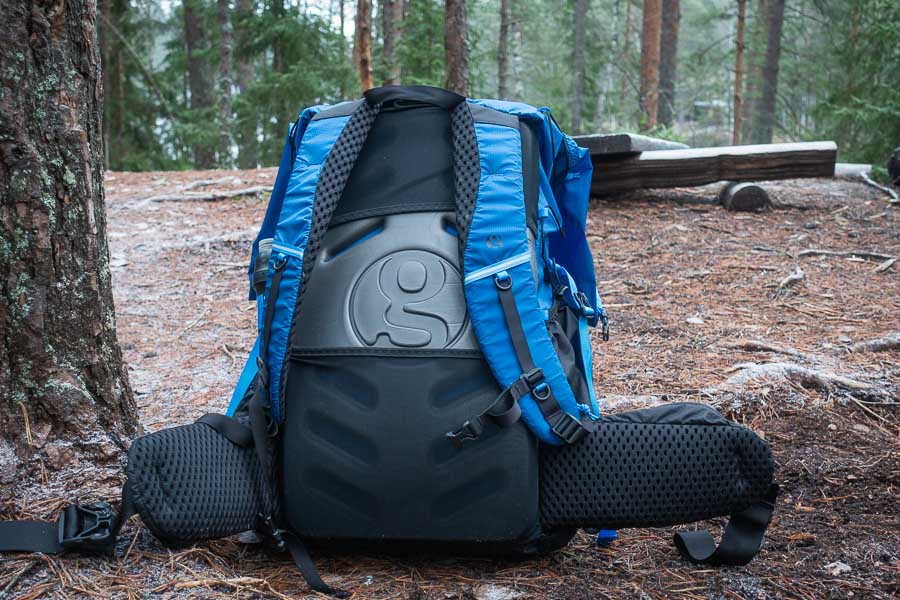 Weird Hip-belt Pockets & Hip-Belt
The hip-belt is large and well padded which I think is important on a frameless backpack. I probably wouldn't use the pack without one but I think Gossamer Gear should have made the hip belt removable for added versatility. Some ultralight backpackers would prefer a frameless backpack without a hip belt.
The left (when wearing) hip belt pocket is a large zippered affair that's easy to access. Gossamer Gear made the decision to use a mesh/bungee pocket on the right side. Although at first I was intrigued, in reality, I don't like it. It fits a couple of granola bars well and makes them quick and easy to grab. The bungee retention is strong but on one occasion a granola bar popped out when I was scrambling around.
I wouldn't trust the pocket with anything but a granola bar. But even then losing a snack on an Ultralight Backpacking trip means missing a snack and in my case getting grumpy. I'd have much preferred two normal, zippered hip belt pockets.
The same shoulder straps found on the Gorilla and other GG packs. Luxuriously padded, comfortable for hours of hiking day after day.
Even more important for a frameless backpack.
I went out on an overnight trip and took out the G4-20 with a standard Ultralight/Thru-hiking base weight and about three days' worth of food.
I hiked about 5 miles the first day and 10 the next and found the pack very comfortable and had no issues with the backpack being frameless. In fact, I found the lack of a frame meant the pack moved more fluidly with me as I scrambled up and around rocks in the Finnish forests.
Based on my previous experience with similar Gossamer Gear backpacks, I wouldn't hesitate to use this pack for a multi-month thru-hike.
As long as you are using the G4-20 with a pack weight of less than Gossamer Gears recommendation of 30lbs!
Gossamer Gear G4-20 Backpack Pro's & Con's
Pro's
Low Weight
Closure System
Frameless pack felt like it was moving with me
Con's
Hip-belt mesh pocket
Hip-belt is non removable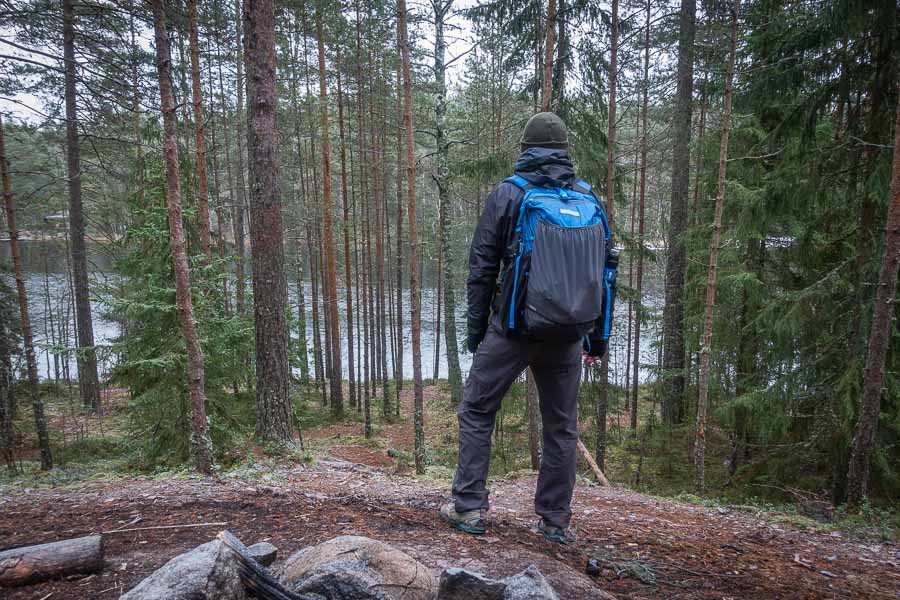 Now I'd like to turn it over to you:
Did I miss off an important feature? Do you own a G4-20? Love it? Hate it?
Let me know by leaving a comment below right now.
Shop the G4-20 Backpack at gossamergear.com here
Facebook Comments