Howdy! This is my review of the Altra Running trail running shoes and a little info on hiking footwear for the Appalachian Trail.
Boots vs Shoes?
Many people believe it's necessary to wear big heavy boots when out hiking, this is simply not true. The only benefit of using boots to me is the added ankle support and that's not necessary when you have a lightweight pack. You may need to build up your ankle strength when making the switch from boots to Trail Runners. This is also a good opportunity for you to find out what shoes work best for you.
Trail runners are lighter on your feet
Sweat can escape easier wearing trail runners which is important for hiking footwear for the Appalachian Trail
Boots won't dry as quickly
Good trail runners should put your foot in a natural position
Trail runners tend to be cheaper than boots although not as long lasting
Trail runners have a short break-in period compared to boots
---
Say No to Waterproof shoes
Goretex has its place, but not on your feet. Not on a long distance hike anyway.
"Breathable" waterproof membranes don't breathe well at all and your feet will sweat when hiking. That moisture will stay trapped inside the shoe and make your socks wet. Wet socks lead to blisters, blisters are bad. Your feet will get wet in trail runners but they will do a better job of allowing your feet to breathe and will dry much quicker.
---
A Little Footwear Philosophy
I'm a pretty big proponent of the Barefoot running/Hiking movement. If Science/God/Allah wanted you to have heavily padded, high heeled feet you would have been born with them.
I go barefoot as often as possible at home and in the gym. I use
Bedrock barefoot sandals
 and Vibram Five Fingers whenever the weather permits it and stay away from big bulky shoes with elevated heels.
It's also important to note I have very wide feet. I'm probably a size 9 US but have to get size 11 for the width.
Bedrock Sandals
Hiking 2189 miles in Sandals?
No
When looking at hiking footwear for the Appalachian Trail I wanted to use a shoe that was as "barefoot" as possible but still provide ample protection for my feet. I wasn't going to risk wearing barefoot sandals for 2189 miles. Potentially break a toe on a rock and jeopardize my trip.
Thus I bring you Altra's brand of trail running shoes.
---
Why Do I Recommend Altra?
Foot Shaped – Altra's are made in the shape of the human foot. Surprisingly most shoe companies ignore the feet themselves and go for what looks good or what type of air/spring/hover technology they can incorporate into their shoes.
Altra Shoes fit my feet and give my toes space to spread out and act like feet are supposed to.
Padded and protective, but not too much – Altra's have a good amount of padding so that you don't feel every sharp rock on the trail and the padding can absorb some of the impact of hiking hour after hour. You still have really good "foot feel" and don't feel like your hovering inches above the ground when you walk.
They have ample protection for the feet. You're still going to know about it when you stub your toe on a rock but at least the impact is absorbed across the shoe as opposed to wearing Vibram's and taking the full brunt of the blow on an individual toe.
Zero Drop – "Zero Drop" means a shoe is completely flat, the heel in most running shoes is elevated above the toes. Un-naturally elevating your heel above your toes completely changes the biomechanics of the foot, leg, and entire body. Don't do it, Seek out Zero Drop Shoes.
The Complete Package – I've yet to find a company that provides all of these features In their shoes, If you know of any others then PLEASE let me know in the comments below.
---
I Used Four Pairs of Hiking Footwear for the Appalachian Trail 
Inov8 Roclite 295
These were the shoes I started with on the trail, they have a 6mm heel to toe drop but they were a pair of shoes I already owned and were pretty well broken in. The shoes themselves were excellent, super grippy and well made. The fit was pretty narrow for me and would be better suited to someone with narrower feet.
Inov8 Roclite 295
Altra Lone Peak 1.0
My second pair of shoes was the Lone Peak 1.0 by Altra. These were another pair of shoes that I'd already broken in and were a truly awesome pair of shoes that served me well. The fit was roomy and comfortable, they breathed really well and lasted a long time.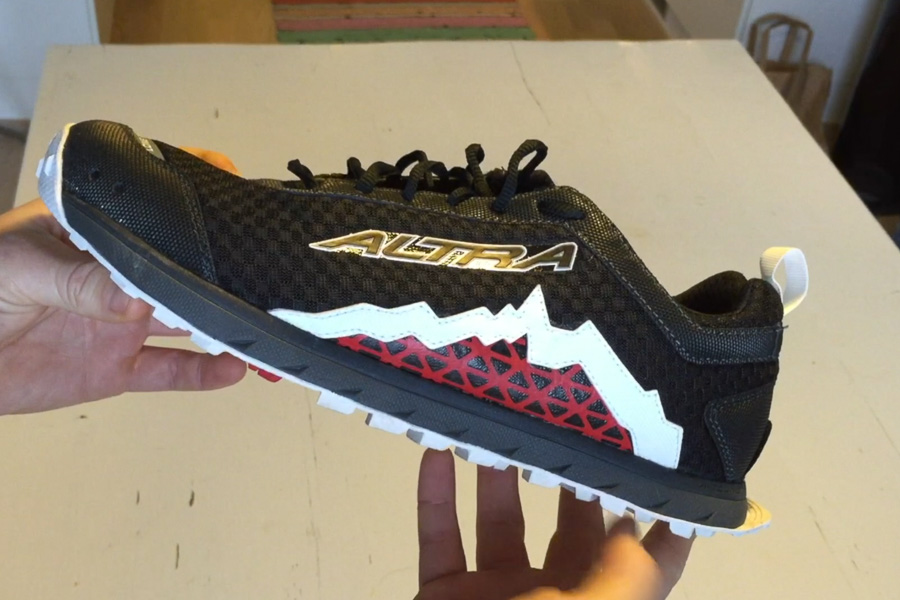 Altra Lone Peak 1.0
 Altra Superior 2.0
The Superior 2.0 by Altra were the first shoes I used on the trail straight out of the box. I picked them up in town and they were great from the start, my feet and legs were already strong by this point and the shoe had almost no break-in period. I wouldn't recommend the Superior 2.0 as a long distance hiking shoe as they are not as durable as the Lone Peak series. They are an extremely lightweight and flexible shoe that would be better suited to short hikes and trail running.
Altra Superior 2.0
 Altra Lone Peak 2.5
I summited Katahdin in a pair of Lone Peak 2.5's. The 2.5 has different mesh material on the body of the shoe that I would say is a little more breathable but is a little less durable than on the 1.0. They served me really well and It's what I recommend as hiking footwear for the Appalachian Trail.
Altra Lone Peak 2.5
Socks 
Get good socks. I started out with a couple of pairs of
Injinji
 running weight toe socks, I'd been using them for quite a while and absolutely love them however they wore down pretty quick and I had to switch to something thicker and more durable.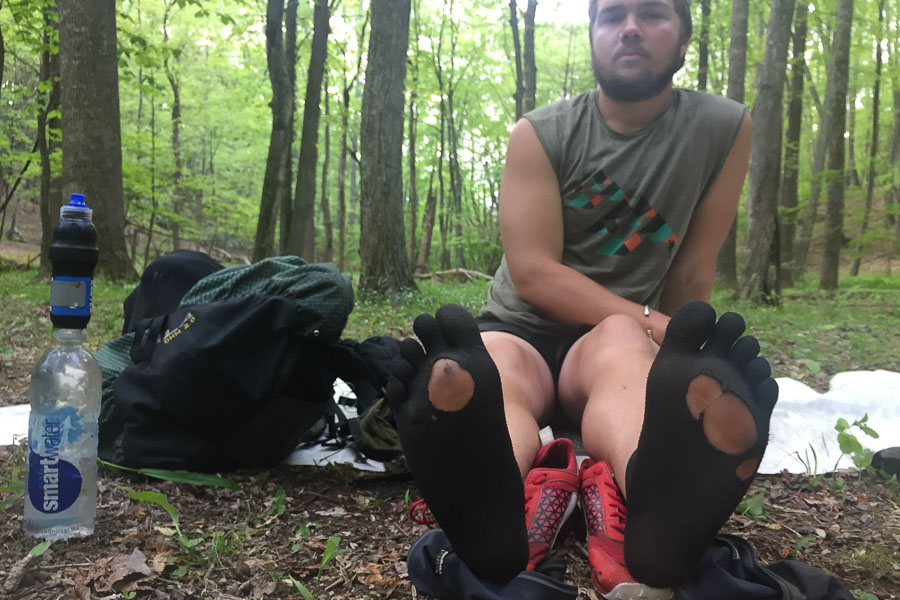 I (like most thru-hikers in 2015) made the switch to
Darn Tough
socks and never looked back. Although wearing thicker socks meant having sweatier feet it was a sacrifice you made to have socks that lasted more than a few weeks. Darn Tough will replace any socks that you ware through free of charge although many of the outfitters on the trail wouldn't do a straight swap, saying you needed to send the socks to Darn Tough directly. For more in depth
info on socks check out this post I wrote.
---
Gaiters
When doing my research back in 2014 of what gear to use I noticed a lot of thru-hikers were wearing
Dirty Girl Gaiters
.
They are non-waterproof, short stretchy gaiters thats' sole purpose is to keep trail debris out of your shoes. They are pretty cheap and I thought why not give them a go? I was very pleasantly surprised. They do their job extremely well, they are well built and you don't even realize you're wearing them once you get used to them. Keeping excess dirt and rocks out of your shoe is one of the keys to
preventing blisters on the trail.
---
Conclusion
I highly recommend anyone looking to do a long-distance hike to give trail runners a try.
I recommend buying from a reputable company, find what models fit your feet and stay away from overly padded shoes that put your feet in an unnatural position. Avoid waterproof shoes and invest in good quality socks and gaiters.
I highly recommend picking up a pair of
Altra Lone Peaks
IF it makes sense for your feet.
I hope you enjoyed this post if you did enter your email address in the footer area below to get updates when new posts are released.
Thanks for stopping by, PIE
This site contains affiliate links. If you purchase something through one of these links it helps to support my work here at Pie on the Trail and doesn't cost you anything extra. Cheers
.
.
Facebook Comments