High Sierra Trail (2019 Hiking Trip Report)
The High Sierra Trail is a fully developed trail in Sequoia National Park. It was completed in the late 1920s / early 1930s. It is 49 miles long and many people add on the extra 12.6 miles of the John Muir Trail to summit Mt Whitney.
Hiking the High Sierra Trail was MUCH easier than the KCHBR and all other portions of our 2019 hike (see details of our trip below). It has groomed and switchbacked trails, established campsites and much more foot traffic.
This trip report covers my hike of the High Sierra Trail. We started at Lodgepole visitor center in Kings Canyon and finished in the town of Lone Pine. 
This is part 2 of 4 that covers my summer 2019 hike through the High Sierra.
Part 1 covers the Kings Canyon High Basin Route
Part 3 covers the Southern Sierra High Route
Part 4 covers the Sierra High Route
Myself and two friends hiked these routes back to back in August/September 2019. In total we covered 400+ miles over the course of thirty-six days.
These trip reports are taken from my daily journaling whilst hiking the High Sierra Trail and the other routes. They are not intended to be a "how-to" guides but give valuable insight into these high routes through the Sierra. I provide some background info on each of the routes/trails and insert appropriate links to further reading.
Our start date for the trip was the 18th of August. The decision was made to start late in August for a couple of reasons. One, with record snowfall in the High Sierra the previous winter we wanted to give the snow as much time to melt as possible. Two, one of our hiking group Sonic had a serious injury skiing in the early spring. She wanted to give herself as much time to recover as possible. 
The timing of the trip was quite good. We hit mosquitoes the first few weeks but they went away when the temperatures dropped. There was strong sun exposure/heat at the start but adjusted quickly. Temperatures did drop dramatically in the middle of the trip. We experienced some snowfall and plenty of below-freezing nights and frost. I would recommend starting a little earlier than this if it is a normal snow year to avoid colder temps.
Let's dive in..
Start of the High Sierra Trail
Day 14 (Day 1 hiking the High Sierra Trail) – Lodgepole visitor center to Bucks Creek Campsite.
All of us got up early and Sonic set off to get same-day permits for the next couple of weeks of hiking. We charged up devices, and resupplied at Lodgepole then headed over to Wasatch Lodge to get WiFi. It was great to chat with Michelle after such a long time, I got emotional. 
We shuttled over to the largest (not tallest) tree in the world, The Sherman tree. We hiked some connecting trails to our starting point for the High Sierra Trail. It was awesome to walk amongst giant Sequoia's, they are majestic and a sight to behold.
Then we contoured over easy trail for the whole afternoon and made it to camp. Still sweaty from the heat of the day and dusty from the fine soil trail, but it was so nice to be on an actual trail!!!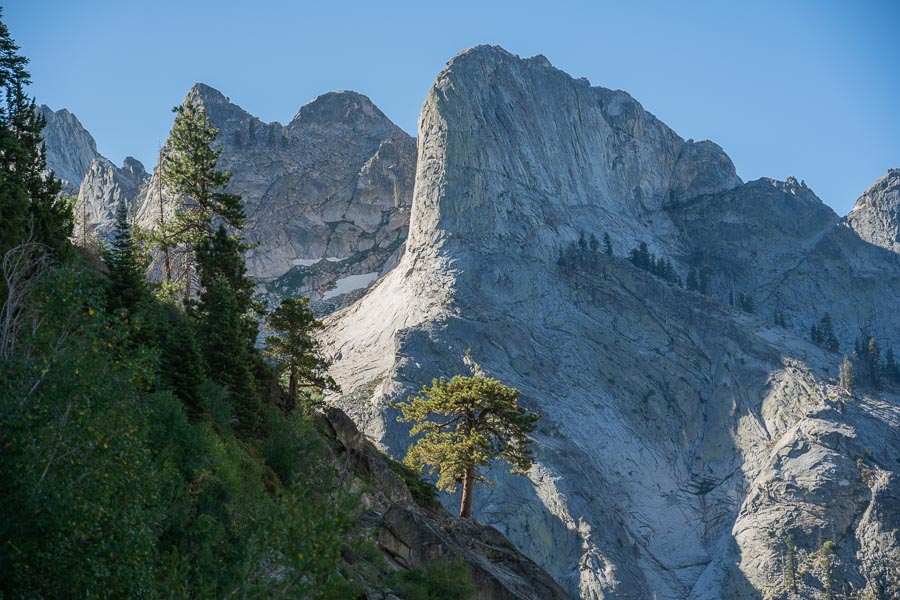 Day 15 – Bucks Creek Campsite To Moraine Lake
I slept incredibly well despite a large branch falling close to our camp in the night. 
Ate my morning pop tart (not a regular thing) and off we went. Cruiser morning miles and then a very long switchbacked but hot climb up to Kaweah Gap. The hiking itself was easy all day and the trail was well maintained. But the heat of the sun and the exposure were intense and tiring. We crushed out 20 miles by 18:30 and cheesy planned to catch us some fish at moraine lake but there was no life. I ate cold soaked ramen noodles and Oreos instead. Not a bad day.
Oh and my foot/ankle/knee issues weren't too terrible 🤘🏻
Day 16 – Moraine Lake To Crabtree Meadow
A bad night's sleep punctuated by a 5 am rain shower and distant thunderstorm. For most of the trip, I'd been cowboy camping but I'd sent my tarp up for the first time in ages. I was super thankful I had while I listened to the rain on sil-nylon from the comforts of my sleeping bag.
We had a chilled morning of hiking down into and through Kern Canyon. I took some time to soak in the Kern Hot Spring, legit and well worth it! Storm clouds were threatening and we had a hasty lunch before continuing on. Eventually, we started the long climb up to the intersection of the Pacific Crest Trail. Getting sweaty during the climb made us cold at the top so we kept moving, south on the PCT, pushing on until Crabtree meadows, making it a 25-mile day. We set up, ate our ramen and passed the F out.
Day 17 – Crabtree Meadow to Lone Pine – End of the High Sierra Trail  
A great night's sleep was had despite temperatures being very cold. We got moving early and had easy terrain for most of the day. I had an inspired morning with many great thoughts coming to mind, future tasks to tackle. Rain clouds were threatening all day long. In the early afternoon, we were hit (literally) with a brief hail storm. Luckily no lightning despite some rumbling. 
We hiked 19 miles by 15:30 and got a quick ride to Lone Pine from the Cottonwood trailhead. 
Lone Pine seemed a classic quirky trail town with everything we would be looking for.
Some bad Mexican food was consumed then chocolate was purchased before camping on the outskirts of town. 
That was the High Sierra Trail!
Facebook Comments