Your ultralight backpacking sleep system is the most important factor in keeping you warm on a trip. In this post, I'm going over all the important elements of a sleep system. I'll analyze the pros and cons of different options and give you some of my top recommendations. 
The Components of an Ultralight Backpacking Sleep System
Sleeping Bag or Ultralight Backpacking Quilt
Sleeping Pad
Pillow (optional)
Sleeping Bag Liner (optional)
Before we look at each one of these components in more detail, It's important to look at some over-arching principles.
I'm Focusing on Three Season Gear as Most People Hike in the Summer 
The gear I'm talking about below is for three-season temperatures such as a thru-hike of the Pacific Crest Trail. I do a lot of winter hiking in my adopted country of Finland and will cover my winter backpacking setup in the future.
Temperature Ratings Quoted are Usually "Safety" Limits
When looking at manufacturers' temperature ratings, they usually quote the "Limit" at which a product will be suitable. If a manufacturer calls their product a 20 degree F (-6C) sleeping bag, that is the comfortable limit at which the bag can be used. In reality, using a bag rated at 20 degrees F (-6C) in 20F/-6C temperatures is pushing the comfort factor. You'll need to wear base layers, a hat and possibly your puffy jacket to be warm.
On Colder Nights I Usually Sleep in My Puffy Jacket and Base Layers
Ultralight backpackers and thru-hikers are looking to save as much weight as possible, this means pushing the limits of their gear. I look at the average temperatures I will be dealing with, then match my insulation to those temps. I will be pushing the comfort factor and thus will be wearing a lot of my clothing to sleep in on the colder nights.
The Inter Relation Between Sleep System and Shelter System
My ultralight backpacking sleep system works with my shelter system to keep me warm, dry and cozy.
My shelter system consists of an ultralight bivvy, a tarp, and stakes. Most nights on a three-season backpacking trip I leave the tarp inside my pack and cowboy camp under the stars. I throw out my bivvy sack, put my sleep system inside of it and settle in for the night. 
I do this to save time and effort setting up my shelter and to be closer to nature. When there's a chance of rain or there are cold winds I'll set up my tarp. The bivvy provides a few extra degrees of warmth but is mainly used to protect my sleeping pad from the ground. It also keeps bugs away and keeps me dry (in combination with my tarp) if it rains.
Now we've covered some pre-requisites lets dive into the components of a good sleep system.
---
Sleeping Bags or Ultralight Backpacking Quilts?
The "sleeping bag vs quilt" debate is hotly contested in the ultralight backpacking community. Each one has it's pros and cons. A lot of the pros and cons I'll talk about are situational and is down to personal preference. In my opinion, both are great as long as you match the gear to your requirements and understand the limits of each. 
Sleeping Bag Pros

Warmer – A mummy-style sleeping bag will generally be warmer as no drafts can get in (a problem with some quilts). They have built-in hoods and are tapered to hug the body and eliminate dead air space.
Sleeping Bag Cons

Heavier – A sleeping bag will usually be heavier than a quilt because it has a built-in hood and has more shell and fill material to encapsulate the sleeper.
Less Versatile – Although most sleeping bags can be unzipped part of the way, they can not be opened out like a quilt for use in warmer climates
Can be restrictive – Some people find a tapered, mummy-style sleeping bag to feel restrictive and claustrophobic.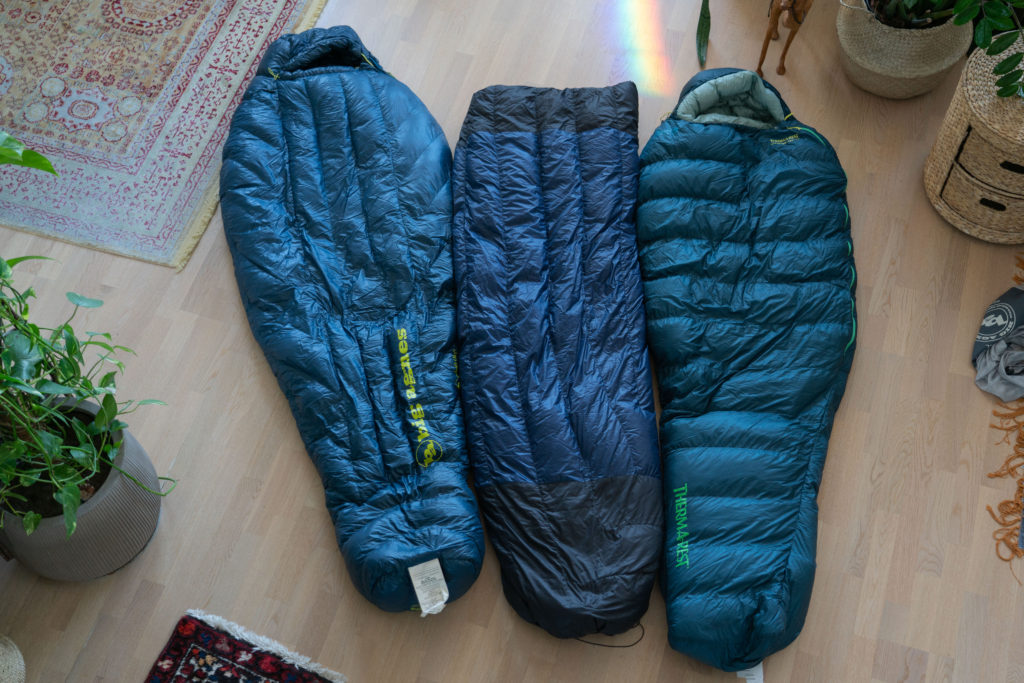 Quilt Pros

Lighter – Comparable temperature rated quilts will usually be lighter than sleeping bags. They don't have a hood and they do away with the extra shell and fill materials that you lay on when sleeping. When you sleep on top of insulation you are compressing it and rendering it useless. The insulation provided by your sleeping pad is for keeping the underside of the body warm.
More Versatile – Quilts can be unzipped/unbuckled to open out into a flat quilt similar to what you use at home. This is great in warmer temperatures but I find I rarely do this out on the trail.
Less restrictive – Quilts tend to be roomier and less restrictive than a sleeping bag. Great for people who move around in their sleep.
Quilt Cons

Not as Warm – Quilts do not have integrated hoods and so people usually wear a hat and/or jacket with a hood when sleeping. They can also be drafty as they are open in the back (even when buckled closed). I've found this to be a problem as I move around a lot in my sleep and sometimes wake up to cold drafts.
---
Temperature Ratings
Temperature rating manufacturers give their products should be taken with a pinch of salt. For summer thru-hikes a sleeping bag rated to 10F/-12C to 20F/-6C should be adequate. If you're a cold sleeper I recommend carrying something warmer than you think you'll need. There's nothing worse than being cold when trying to sleep.
Fill Materials and "Fill Power"

Synthetic insulation has come a long way in the past few years but still doesn't compete with goose down for a sleeping bag. Goose down is lighter and compresses better. "Water-resistant" down products like Nikwax Hydrophobic Down, reduce the vulnerabilities of down to moisture.

"Fill Power" is essentially the loft or puffiness of the bag. It's a complicated subject but basically the higher the number, the more packed the product is with down and the warmer it will be. IE, a product with a fill power of 950 uses down with more loft than that of an 850 fill product. The higher the fill power the lighter a product will be, it will be more expensive though. Look for products in the 900 fill power range or higher.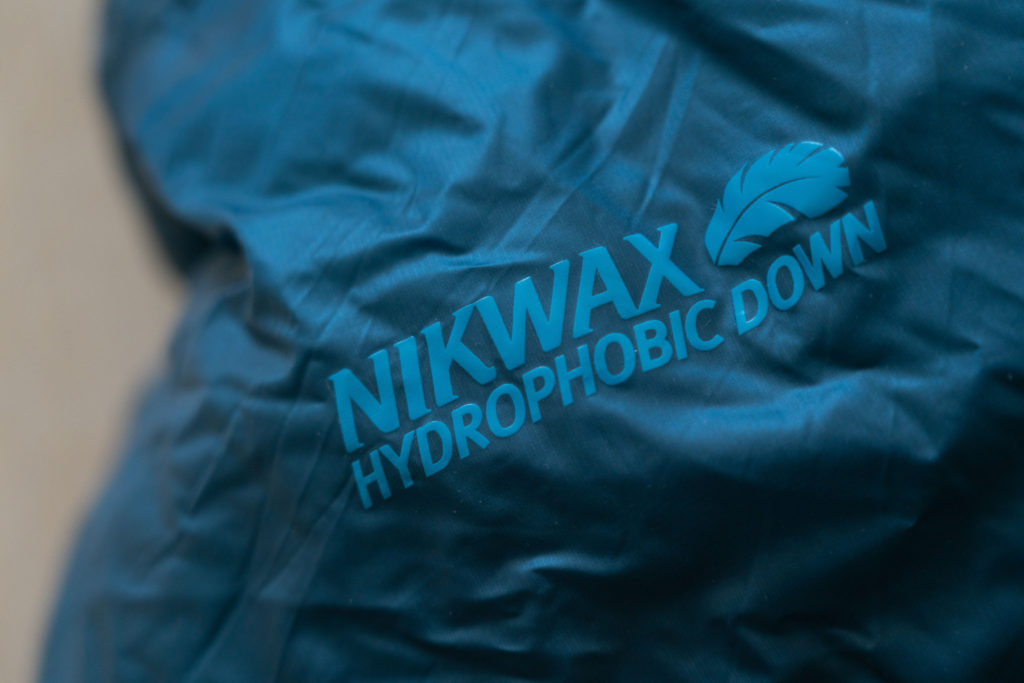 Shell Materials
The shell material of a sleeping bag should be as lightweight as possible to lower the overall weight of the product. The most common shell fabric is water-resistant ripstop nylon in 10D or 20D (the "thickness"). Anything thicker is not necessary and results in a heavier product.  
Weight
Weight varies wildly from product to product, depending on materials and temperature rating. As a guideline, a bag or quilt rated to 20F/-6C should weigh around 22oz/624g or below.
Price
Price also can vary depending on many factors. You should expect to pay anywhere between 350 to 450 USD for a 20F/-6C product. With the price increasing for warmer bags. 
---
Sleeping Bags and Quilts I Recommend
As we can see there are a lot of factors that go into making a high-quality sleeping bag or quilt. Here are five of my top recommendations that match my criteria.
Thermarest Hyperion 20F/-6C Sleeping Bag
New to the market, the Hyperion is an ultralight mummy sleeping bag weighing in at 20oz/567g. It compresses incredibly small, uses water-resistant Nikwax down and costs 409 USD. I'm using it on this summers' hiking trip and will do a full review later this year.
---
Enlightened Equipment Revelation 20F/-6C Quilt
Enlightened Equipment is one of the most popular manufacturers of ultralight backpacking quilts. I used a 20F/-6C Revelation on my thru-hike of the Appalachian trail in 2015 with great success. With a weight of 20.9oz/593g, it is ultralight and costs 385 USD. Click here for my full review.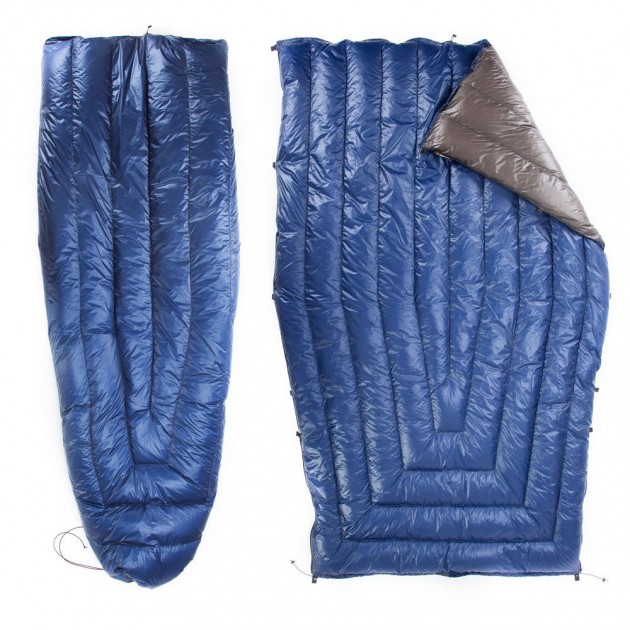 Shop the Revelation Quilt Here
---
Feathered Friends Tanager 20F/-6C Sleeping Bag
The Tanager is a hoodless sleeping bag that does without a zipper. You slide into the Tanager by pulling it on like a pair of pants. Doing away with a zipper, using a 7D shell fabric and 950 fill power down, makes the Tanager weigh just 18.6oz/527g. It costs 369 USD.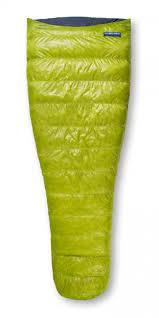 ---
Zpacks 20F/-6C Classic Sleeping Bag

Zpacks are best known for their innovative Dyneema Composite Fabric shelters and backpacks. They also have a great selection of sleeping bags and quilts. The Classic Sleeping Bag is another hoodless sleeping bag but has a 3/4 length zipper for flexibility. Weighing 19.2oz/545g at 359 USD, the Classic Sleeping Bag is a killer option.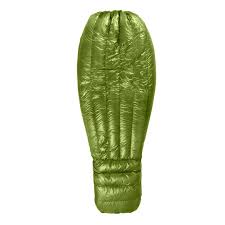 Shop the Classic Sleeping Bag Here
---
Nunatak Arc UL 20 Quilt
Small cottage manufacturer Nunatak offers a wide range of customizable down products. The Arc UL 20 has a closed foot box, that comes with straps to cinch the opening in the back as necessary. It weighs around 21oz/595g at 360 USD depending on the options you choose.
---
Sleeping Pads
A sleeping pad is an essential part of any ultralight backpacking sleep system. There are two main options, inflatable or closed-cell foam. Inflatable sleeping pads are more comfortable and pack down smaller. They can puncture or fail over time though. Foam sleeping pads are cheaper, more resilient and don't involve inflating. They are bulkier though and have to go on the outside of your pack. The weight differences are negligible so it's a matter of personal choice.
R-Value
R-Value is the insulation rating for sleeping pads. Winter sleeping pads have a rating of around 5.7 and warm weather pads around 2. The sweet spot for three-season ultralight trips is 3.2. 
Price
Air pads are considerably more expensive than foam pads, averaging around 150 USD vs 50 USD
---
Sleeping Pads I Recommend
There are lighter sleeping pads on the market such as the Uber Lite from Tjermarest but I feel it's only suitable for consistently warm temperatures and thus doesn't have the versatility of the sleeping pads recommended here.
Thermarest Neoair Xlite 
My go-to sleeping pad for the past few years has been the Neoair Xlite. It has an R-value of 3.2, weighs 12oz/340g and costs around 150 USD. It's incredibly comfortable and It's never failed me after thousands of miles of hiking.
---
Thermarest Z Lite Sol
If I were to start using a closed-cell foam pad it would be the Z Lite. It has a solid R-Value of 2.6, weighs only 14oz/397g and is cheap at 40 USD. The ability to throw it out on a lunch break and take a snooze makes me a little envious.
Exped SynMat UL Lite
I used the older version of this pad on the Appalachian Trail and loved it. The rectangular shape is nice if you move around in your sleep and it's luxuriously thick. Weighing 13oz/369g with an R-value of 3.3 and costing 140 USD. This Swiss-made option is my second favorite sleeping pad.

---
Pillows
Pillows are not an essential part of an ultralight backpacking sleep system. Many people make do with some rolled up clothing or their food bag. For me, though it helps get a good nights sleep at a minimal weight cost. All air pillows on the market are similar, polyester material with inflate/deflate valves and an ergonomic shape. Weight varies slightly so shop around.
Pillows I Recommend
Exped Air Pillow UL Camping Pillow
I'm still using an older version of this pillow that I've had for years. This version weighs 1.6oz/45g, it's comfy and costs 39 USD
Sea To Summit Aeros Ultralight Pillow
I recently lost my version of this UL pillow and am quite upset. It has a decent weight 2.1oz/60g, it inflates quickly and will set you back 42 USD.
---
Sleeping Bag Liners
Sleeping bag liners are also not essential but I like to use one for a couple of different reasons. They add a few degrees warmth which is nice as ultralight backpackers are always pushing the temperature ratings of their sleep system. They also prevent the quilt or sleeping bag from getting dirty from the oils and grime associated with hiking. The best liners are made of silk, some include hoods for added warmth. They will add weight to your sleep system.
Sleeping Bag Liners I Recommend
Sea to Summit Stretch Silk Liner
I've been using this 100% silk liner for years. It has stretch panels on the sides which help if you move around at night and has a hood for added warmth. It costs 80 USD but will serve you for multiple hiking seasons.
---
Rab Traveller Silk Bag Liner
This offering from RAB does not have the stretch panels and has a more tapered design. It weighs 5.4oz/155g and costs 75 USD.
---
So there are all my thoughts on an ultralight backpacking sleep system. Your sleeping bag is the item that needs the most consideration and is the most expensive by far. Sleeping pads are a more simple affair and pillows and liners are an easy choice if you decide to carry them.
Thanks so much for taking the time to check out this post. Join my email list by entering your details below to receive more posts like this straight to your inbox.
To see my in-depth guide to shelter systems click here
Cheers
Disclaimer – This post contains affiliate links. By clicking through and purchasing something you help support the work I do with pieonthetrail and it costs you nothing extra.
Facebook Comments