In this post, I'm sharing 6 of the best backpacking rain jackets in 2020. I'll discuss all the important features you should be looking for in a good rain jacket. Getting soaked on a backpacking trip is not only miserable but can be downright dangerous. You need to have a good jacket that keeps you dry and doesn't weigh you down when it's inside your backpack.
Having hiked over 3000 miles in the past few years I know the importance of a lightweight backpack. Therefore, I'm focusing on ultralight and lightweight backpacking rain jackets that weigh less than 12 Ounces / 340 g.
You don't need to spend huge amounts of money on a jacket. I'm going to give you a great budget option that will keep you dry whilst hiking.
Let's do this!
---
Characteristics of the Best Backpacking Jackets
As with all backpacking gear, it's important to find the right balance of features when choosing a jacket. It's all about compromise, there is no such thing as the perfect backpacking jacket!
Weight
The weight of a good rain jacket doesn't need to be more than 12 Ounces / 340 g, and many weigh a lot less
In an ideal situation, a rain jacket will spend most of its time inside your backpack. So lowering the weight of rain gear lowers the overall weight you're carrying out on the trail. Avoiding unnecessary features and jackets that use thicker, overkill materials will drop the weight considerably.
The Zpacks Vertice Rain Jacket weighs just 5.7 ounces
Durability
Most rain jackets will last for months worth of trail time. However, going with lighter weight jackets may mean they are less durable. Materials are thinner and thus will wear down sooner. Some are also more prone to tearing on thorns and brush.
Cost
Costs can vary wildly depending on the materials and functionality of the jacket. The most important thing to do is look at the types of trip you go on and the features you need from a jacket.
A good backpacking jacket is an investment and an integral part of any clothing system.
Features
I recommend looking at jackets with minimal features to keep the weight low. Pockets, adjustable cuffs and other features are nice but not essential and add weight. Armpit zippers are something to look for. They add a little extra weight but allow for increased venting and moisture management.
It goes without saying that a good rain jacket should be waterproof, have a good hood and use high-quality materials and fastenings.
Pit zips help with ventilation
---
A Word On "Breathable Fabrics"
"Breathable" is a word that's used widely in relation to rain jackets and rain pants. Some jackets are of course more breathable than others. But, no matter what material is used, you will generate body heat whilst hiking. This will result in a buildup of moisture that needs to be managed correctly.
Despite real differences in the breathability of the jackets below, take all the stats with a pinch of salt. It's important to use an appropriate layering system. Remove a jacket if you're sweating a lot. And take advantage of armpit zips and the main zipper to manage heat/moisture.
This "lack" of breathability can also work to your advantage. A rain jacket will retain body heat and thus is an effective layer for colder temperatures when used correctly.
---
The 6 Best Backpacking Jackets in 2020
Like all outdoor gear, jacket materials and technologies are always progressing.  The options below represent the best backpacking rain jackets on the market in 2020.
Zpacks Vertice Rain Jacket
Weight – 5.7 oz / 162 g
Cost – 259 USD – Shop Now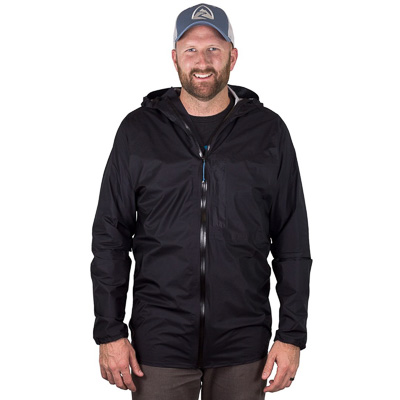 The Zpacks Vertice rain jacket is one of the lightest backpacking jackets on the market and has an impressive set of features. The Zpacks rain jacket uses three layers to wick away moisture and let it permeate through the jacket without letting precipitation in.
It has a large chest pocket accessible whilst wearing a backpack and an adjustable hem, cuffs, and hood. The jacket includes armpit zips that open up wide. Which in my usage helps a lot to regulate sweat and moisture.
I used the Zpacks Vertice rain jacket in 2019 on my High Sierra Adventure.
Available in both men's and women's models and matching rain pants also available.
---
Outdoor Research Helium 2 Rain Jacket
Weight – 6.4 oz / 181g
Cost – 110 USD – Shop Now
The Helium 2 is one of the lightest backpacking rain jackets available from a large outdoor clothing company. It's a minimalist jacket with an athletic cut, designed for fast and light activities. Perfect for ultralight backpacking and thru-hiking.
It has elastic at the cuffs and hem. This saves weight over using an adjustment system but still allows for different body types and freedom of movement.
It has one zippered chest pocket that's accessible with a backpack on and can be used to stuff the jacket into for storage (as do all jackets on this list). It doesn't have pit zips for moisture management and the jacket may not be the most breathable on this list. But it's more than enough on trips where you want to go light and have solid rain protection.
Available in both men's and women's models and matching rain pants also available.
---
Marmot Precip Rain Jacket
Weight – 11 oz / 312g
Cost – 100 USD – Shop Now
The Marmot Precip jacket has been one of the most popular backpacking rain jackets on the market since it's release in 2003. It's been updated several times over the years and is affordable, lightweight and fully featured.
It has an adjustable hem and cuffs, stow-able hood and full pit zips for venting moisture. The Precip also has two hand pockets that are accessible with a pack on. These pockets are mesh-lined which will help moisture escape if the zippers are left open.
It uses a 2.5 layer breathable polyester material to wick moisture away and keeps you dry in a downpour.  It's a durable material that will take years of abuse. It's not the lightest jacket on this list, but the Marmot Precip is a great lightweight option at an affordable price.
Available in both men's and women's models and matching rain pants also available.
---
Black Diamond Stormline Rain Jacket
Weight – 10 oz / 283g
Cost – 148 USD – Shop Now
Best known for their climbing centric gear and clothing. Black Diamond has released a great backpacking jacket with the Stormline.
It has a lot of the features that make for a great jacket, a low weight, two hand pockets, pit zips, and competitive pricing. One of the features that sets it apart is the stretchy material used. The 2.5 layer waterproof jacket is soft to the touch and stretchy in nature. This gives the Stormline great range of motion whilst scrambling over rugged terrain.
Some users have found the Black Diamond Stormline jacket oversized. So you may want to select a smaller size or try one on before purchasing.
Available in both men's and women's models and matching rain pants also available.
---
Columbia EvaPOURation Rain Jacket
Weight – 10.8 oz / 306g
Cost – 74 USD – Shop Now
Columbia are well known for their outdoor focused clothing. They have a solid offering for a lightweight option in the EvaPOURation rain jacket.
Its affordable price will appeal to a lot of people. But, it still has all the important features like pit zips, two hand pockets, adjustable hem, hood, and cuffs.
The breathable fabric has more a more plasticky feeling than some jackets. But will keep the rain away and will take a lot of abuse over time. It's a great lightweight option that won't put a huge dent in your pocket.
Available in both men's and women's models.
---
Frogg Toggs Ultra-Lite2 Rain Jacket
Weight – 6 oz / 170g (Jacket) – 10 OZ / 284g (Jacket and Pants)
Cost – (Jacket and Pants) 16 USD – Shop Now
If you're on a budget then I highly recommend the Frogg Toggs rain jacket. Weighing in at just 6 oz / 170g this budget option will keep you dry out on the trail without hitting you hard in the wallet.
It doesn't have the same features as a lot of the jackets on this list and has some drawbacks. The Frog Toggs jacket is prone to tearing on brush. It's also easy to bust holes in it when pulling it out of your pack and putting it on. You have to be careful with it but I made one last the entire duration of my CDT thru-hike. They should be considered "semi-disposable".
Frogg Toggs are unisex and "oversized" to compensate for many body types. This makes them baggy and ill-fitting, making them somewhat clumsy to hike i
The Frogg Toggs jacket comes bundled with a set of pants and the two together weigh just over 10 OZ / 284g.
---
Did I Miss Something?
Hopefully, this guide to the best backpacking jackets has helped you figure out the best jacket for you. A good rain jacket is an integral part of any clothing system out on the trail, so choose wisely.
If you think I've missed out a good jacket then drop me a comment below. If you want to see my top picks for insulated synthetic/down jackets to stay warm when hiking, check out this post.
Thanks for stopping by, Pie.
This site contains affiliate links. If you purchase something through one of these links it helps to support my work here at Pie on the Trail and doesn't cost you anything extra. Cheers
Facebook Comments