Howdy
This is my Review of the Tom Bihn Aeronaut 45, I've had the bag for around six months and have used it on several trips. It's been all over the globe including Finnish Lapland, England, Singapore and Malaysia and Estonia
I'm really into backpacks and bags and I'm going to unashamedly geek out hard on this review as there's so much to say. My passion for bags and backpacks should hopefully make for a thorough review and help you figure out if the Tom Bihn Aeronaut 45 is right for you.
Just a few caveats to note before I dive into the review:
I travel with the mindset of a Backpacker not a "package tour" tourist
I prefer Hostels to Hotels
I like to get involved with the local culture, not just stay by the pool
Mobility is super important to me when I'm travelling, I travel as light as possible
Yours Truly Making Friends in Havana
The Tom Bihn Aeronaut 45 is a soft-sided travel bag with a 45-litre capacity, It's made from 1050 denier ballistic nylon for the exterior of the bag and Dyneema Ripstop on the inside.
The Aeronaut 45 has five compartments accessible from the exterior, the main compartment and side compartments on each end with small stash pockets on the outsides.
---
Main Compartment
One large zipper accesses the main compartment and the flap folds out of the way to make packing easier. The inside of the flap has a small mesh pocket that can be used for smaller items or dirty clothes that you want to keep separate.
Main Compartment of the Aeronaut
The main compartment is pretty simple, it's one large area with a set of removable compression straps at the bottom. I haven't found the compression straps necessary yet but have left them in the bag.
An ingenious feature of the Tom Bihn Aeronaut 45 is the adjustable main compartment/side pocket dividers. At the bottom of the dividing wall between the main compartment and the side compartments is a zipper. This zipper can be opened to increase the capacity of the main compartment. Super useful if you're carrying long items or want more space in the main compartment. Opening the zippers decreases the space inside the side compartments but It's a great feature. It makes the bag more customisable to your packing style.
Dividing Walls and Synch Straps
A bag that's square or rectangular in shape makes packing much easier and avoids unusable dead spaces. The Aeronaut is rectangular making the main compartment square when the dividers are up and rectangular when you unzip them.
I've been enjoying using the Packing Cube Backpack inside the main compartment. It's designed to go with the Tom Bihn Aeronaut 45 but when it's loaded out it's necessary to open the dividers. I usually lay it flat on the bottom then one or two medium packing cube on top of that. Next comes my laptop inside a case and then a jacket on top of that to keep the laptop protected.
The main compartment is easy to pack but accessing stuff from it whilst moving around can be tricky. I think its best to pack the main compartment with items you don't need quick access to and put those items in the side pockets.
---
The End Pockets
I prefer carrying the Aeronaut 45 in backpack mode so I take that into consideration when packing the bag. I put toiletries and more fragile items at the "top" of the bag so I don't need to worry about damaging stuff when moving around and taking the bag on and of.
When the dividers have been opened the end pockets are wedge-shaped but still have a surprisingly large amount of space.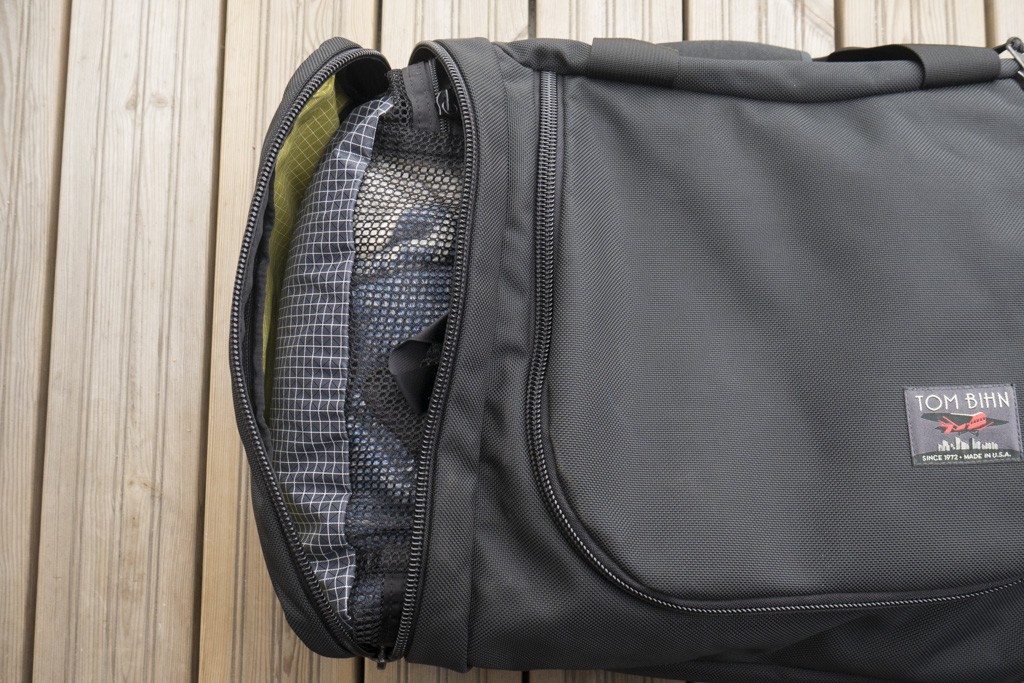 Large Side Pockets on The Bag
---
The Stash Pockets
They don't have a large amount of space if the end pockets are full and you can't see what you're trying to access when you open the zipper but they're a great "catch-all" type pocket. To try and speed things up when I'm in the security line at the airport I stash all my EDC items in one of these pockets. Instead of standing in line complaining about how long the security lines are I wish more people would empty their pockets and save time…
The stash pocket and all other compartments in the bag have a small D-Ring that can be used with Tom Bihns' Key-Strap system. The Key-Strap system uses different length lanyards with swiveling mitten clips at each end. They're used to secure keys or any of the numerous Tom Bihn Organisers and accessories sold on their website.
One Key-Strap comes included with the Tom Bihn Aeronaut 45 and I've found it useful for attaching my keys. It ensures I know where they are when I need them.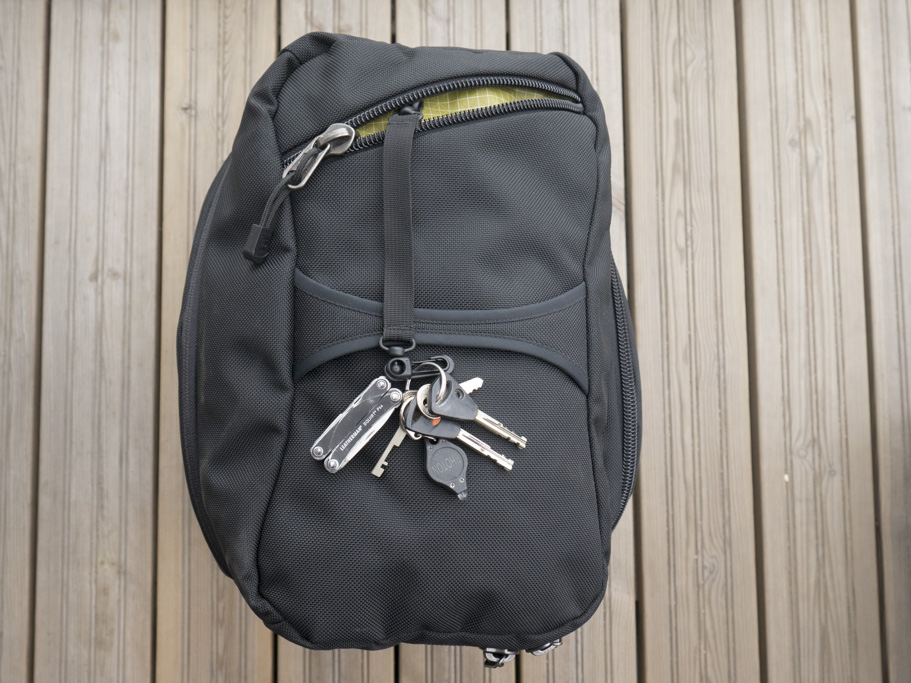 Key Strap in the Stash Pocket
Carry Methods
One of the best features of the Aeronaut is the option to carry the bag in three separate ways. Shoulder Bag Mode, Briefcase Mode, and Backpack Mode. There are also grab handles on each end of the bag.  I don't consider these a carry method, just an awesome feature to help move the bag around.
Shoulder bag mode
The Tom Bihn Aeronaut 45 comes with a basic shoulder strap but I upgraded to the Absolute Shoulder strap. It's a bombproof, flexible, comfortable, behemoth of a shoulder strap.
That being said, I don't like carrying the bag in shoulder bag mode. If the bag is full/heavy I find shoulder bag mode to be awkward and uncomfortable. If I'm rushing to the departure gate it's bouncing around so then I need one hand to support it, then I trip over my feet, then I spill my Starbucks down my shirt.. You get the idea.
After the first few trips with the Aeronaut, I removed the shoulder strap and left it at home.
Briefcase Mode
Briefcase mode is great for moving the bag around and taking it in and out of taxis etc. It will get heavy quickly though. The Tom Bihn Aeronaut 45 has a very solid, comfortable handle. It's designed to be out of the way when packing and unpacking the bag, unlike many similar bags.
Briefcase Mode
Backpack Mode
I'm a backpack guy and probably always will be.
The Backpack Straps are really good. I guess I was pretty surprised, thinking they would be somewhat of an after-thought. They aren't going to breathe as well as a hiking backpack but they're comfortable and durable, there are no-load lifter straps but there is a good sternum strap that I consider essential on any backpack.
The backpack straps stash away quickly and easily which is great if you want to use the bag in briefcase or shoulder bag mode and want a cleaner look. If you ever need to check the bag under the plane then stashing the shoulder straps away makes one less thing to get snagged up and damaged.
Backpack Mode
---
What the Tom Bihn Aeronaut 45 does really well:
Perfect size for medium/long trips
Traveling light is much easier when you have the appropriate luggage, the Aeronaut is big enough for the essentials but no so big that you bring unnecessary extras.
Easy to Carry/No Wheels
A few months back, whilst sipping coffee at a cafe in Brussels I watched a parade of Japanese tourists trying to drag their huge wheely bags along a cobbled street. They weren't laughing or seeing the funny side of it, they were pissed. They were headed towards the railway station and I knew that it was at least another ten-minute walk and the street was cobbled all the way
…No thanks…
Soft-Sided
Soft-sided bags have a number of advantages.
They're easier to fit into overhead storage compartments.
The material will give a little if you overpack and if you under pack they will take up less space.
They're "unbreakable" – Aluminium suitcases are prone to dents, hard plastic cases are prone to cracking. Soft-sided bags can be ripped or cut but I think it's pretty unlikely.
Taking up very little real estate in an overhead compartment
Materials, Build Quality and Looks
The bag uses all the best quality materials as you would hope. YKK oversized waterproof zippers and high-quality fastenings. Tom Bihn uses 1050 denier ballistic nylon for the exterior of the bag, a tough fabric that has a refined look giving the bag a professional look. The interior lining of the pack uses Dyneema Ripstop which from previous experience I know to be extremely durable.
The bag has a premium feel
As you would expect from a company that makes all its products in small quantities inhouse the build quality is outstanding. All the zippers flow really smoothly and there isn't a loose thread to be found.
With a bag like this, in this color you're going to stand out less than the average backpacker. The bag looks smaller than it is which can act in your favour if the bag is overweight and you're trying to bring it as a carry-on.
---
What the Aeronaut Doesn't Do So Well:
These points aren't necessarily criticisms of the bag, everything in life has his limitations and these are some of the Aeronauts.
Short Trips
If you're going on a trip less than three days then this bag is probably going to be too big. Go with something smaller and less cumbersome. My smaller "go-to" option would be the Tom Bihn Synapse Reviewed Here.  
Trips That You Might Expect to Go Hiking On
This is not a hiking backpack. It can't be expected to compete with the suspension and functionality of a dedicated hiking pack.
On longer trips I usually incorporate some hiking, If I'm going to be doing anything more than day-hiking then the Aeronaut will stay at home in favor of a hiking backpack such as the ULA Ohm 2.0. Check out my numerous hiking gear recommendations throughout the site.
Picking blueberries on my Thru-Hike of the Appalachian Trail
Trips Where You Need a Lot of Stuff / First-time Backpackers
A 45-litre bag may not be suitable for extended trips where you need to have a lot of gear.
Camera gear, Scuba Diving gear, Camping gear, Fashion-conscious female? Look elsewhere
With that being said I often like to carry the Tom Bihn Aeronaut 45 in conjunction with a smaller "personal item" such as a fanny pack or the Synapse mentioned above.
No Laptop Compartment
This is going to be a deal-breaker for a lot of digital nomads.
Personally I just use a neoprene laptop sleeve and make sure when packing the main compartment of the bag that the laptop is protected on all sides by clothing.
---
Final Thoughts
Having used the Aeronaut extensively over the past six months and painstakingly researched the competition I'd say that the Aeronaut 45 is probably the best bag in its class.
It's my go-to bag for travel and I'm excited to see if anything could knock it from the top spot in the coming years.
Checkout out the Tom Bihn Website to see all the awesome colours and options you can choose when ordering from them, if you spend a bunch of money don't blame me.
Wow, so If you've made it all the way through this review then you probably like bags and backpacks and will probably love the Aeronaut 45 from Tom Bihn.
Or you're my parents and you read everything I write.
Hi Mum and Dad.
Check out more Tom Bihn Reviews on the site
Check out the video that goes along with this post
Thanks for stopping by
PIE
Facebook Comments