The Tom Bihn Synapse 25 is somewhat of a Holy Grail when it comes to Day Packs and It's been one of Tom Bihn's' most successful products since it's launch.
I've been researching, testing and geeking out on backpacks for almost ten years. It's only in the past few years with the start of pieonthetrail.com that I've been sharing those thoughts with you lovely people. I remember filling an old military-style backpack full of Star Wars Toys and Action Man as a kid and going on "adventures" in the back garden. Not much has changed. I'm still collecting Star Wars action figures, I love backpacks and life is one big adventure right now.
Before I dive into my Tom Bihn Synapse review lets cover some quick stats
Cost – 200 USD
Weight – Halcyon – 1lb 13oz or Nylon – 2lbs
Capacity – 25 Liters, a 19-liter version is also available
---
Exterior Of the Tom Bihn Synapse
The Tom Bihn Synapse is made in America and the materials and craftsmanship are second to none. All the buckles, zippers and fastenings are the best you can get.
Tom Bihn Offers the Synapse in two different fabrics, Halcyon and Nylon.
My Synapse is constructed of 400 Denier Halcyon material in a rich blue called "Nordic". The Halcyon material is a little lighter and thinner but still extremely tough. It has a more modern/hiking appearance with its ripstop grid pattern. The Halcyon version is available in 5 color options.
The other material choice is 525 Denier ballistic Nylon. The Nylon has a more professional appearance, great for business travel. It is a little heavier than the Halcyon version and comes in 9 color options.
Tom Bihn went to great lengths to design a bag that has a streamlined appearance, there are no extraneous straps and buckles.
---
Size and Carrying Capacity
Being 25 Liters puts the Synapse 25 in the medium to large range for a daypack. One of the first daypacks I used regularly in my early twenties was the 35 liter Camelbak Motherlode. I eventually moved away from that bag and always had trouble finding a bag that held everything I wanted comfortably.
So far the 25 later capacity has been just about big enough as my personal item whilst traveling. It can hold my large laptop, mirrorless camera and all the other items I like to have close at hand. I would prefer it if the bag was slightly larger, say 30 liters capacity.
---
Shoulder Straps, Sternum Strap, Hipbelt, and Overall Comfort
I want the shoulder straps and hip belt of a daypack to be comfortable yet simple and sleek. Rarely am I carrying a daypack for long extended periods. The shoulder straps on the Synapse are padded and comfortable but have a very simple appearance that helps it blend in. The sternum strap works well and I use it in most situations that I'll be wearing the pack for more than a few minutes.
The Synapse has a padded mesh back panel that is simple and comfortable.
The Tom Bihn Synapse does not come with any kind of hip belt included.  I ordered the simple webbing hip belt and also the beefier padded hip belt. I wasn't sure if a hipbelt would be necessary for the Synapse and for most situations I was right. Day to day im swinging the bag off and on and don't feel the need for a hip-belt. However, when I'm doing any hiking or walking around with a lot of camera equipment then the padded hip belt really helps take some weight off of the shoulders.
---
Main Compartment of the Synapse 25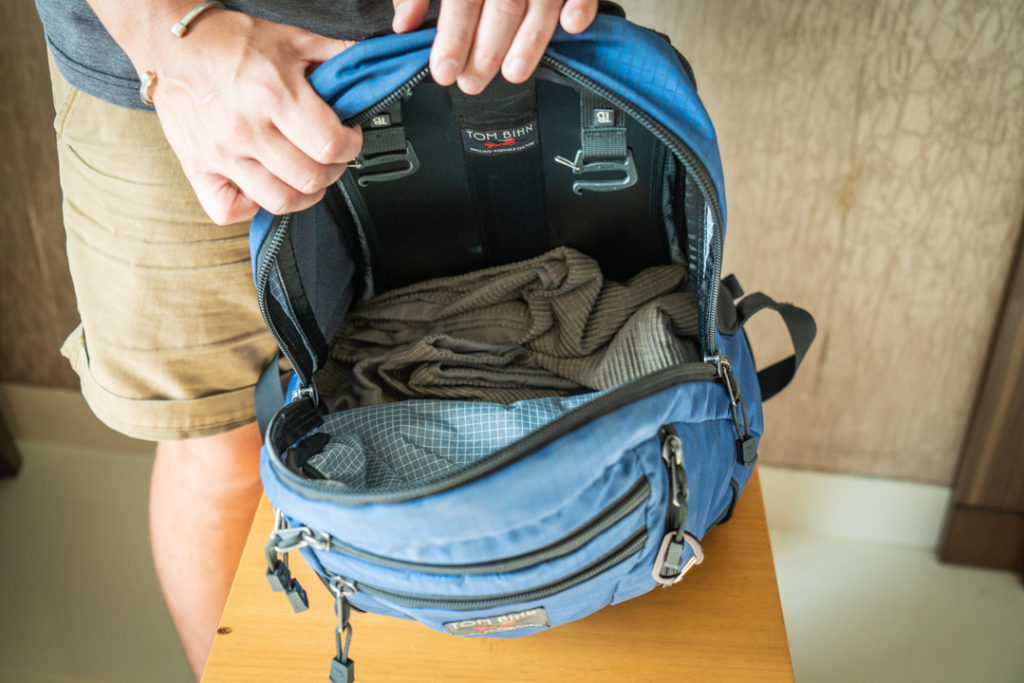 The main compartment of the Synapse is a deceptively large, simple affair. As standard, there is only one organizational feature, a large pocket loosely sealed by a strip of elastic. I like this pocket for storing my laptop charger and other essentials but I wish the elastic was tighter as items can get snagged moving them in and out of the main compartment.
Otherwise, the main compartment is tall and holds a lot of stuff. I chose to add two additional options to the main compartment, a Tom Bihn Laptop Cache and the Synapse frame.
The Cache is Tom Bihn's modular way of protecting a laptop inside the Synapse. There are several size options available to fit different laptops. It attaches with two gatekeeper clips on the inside of the Synapse and allows the cache to be slid out of the bag for airport security.
I'm not in love with this system. In most security lines I've been asked to completely remove my laptop for inspection. The functionality of the Cache works well and it's ample protection for the laptop. Personally I'd rather Tom Bihn had used a dedicated, simple laptop sleeve like other bags.
I was on the fence about picking up the frame for the Synapse. Weighing in at almost 2lbs already I was hesitant to add the extra 9.6 ounces of the frame but I'm happy with my decision. The frame has a fiddly but effective method of attachment inside the bag.
I've tested the Tom Bihn Synapse extensively with the frame in and out and the frame gives me two benefits.
1. It makes carrying a heavy load more comfortable – The Synapse is my personal item anytime I'm in transit and thus it holds all my heavy electronics. With all of the items that live permanently in the bag and a liter of water the Synapse is HEAVY when full. With the frame in the bag, the weight is much more manageable and the bag doesn't hang on my shoulders with the same discomfort, especially when paired with a hip belt.
2. It gives the Synapse 25 some nice structure – The stiff plastic and aluminum frame gives the bag more rigidity. It prevents odd-shaped items (lol) poking me in the back. It helps the pack stand up when placed on the ground and gives more protection to the contents of the bag.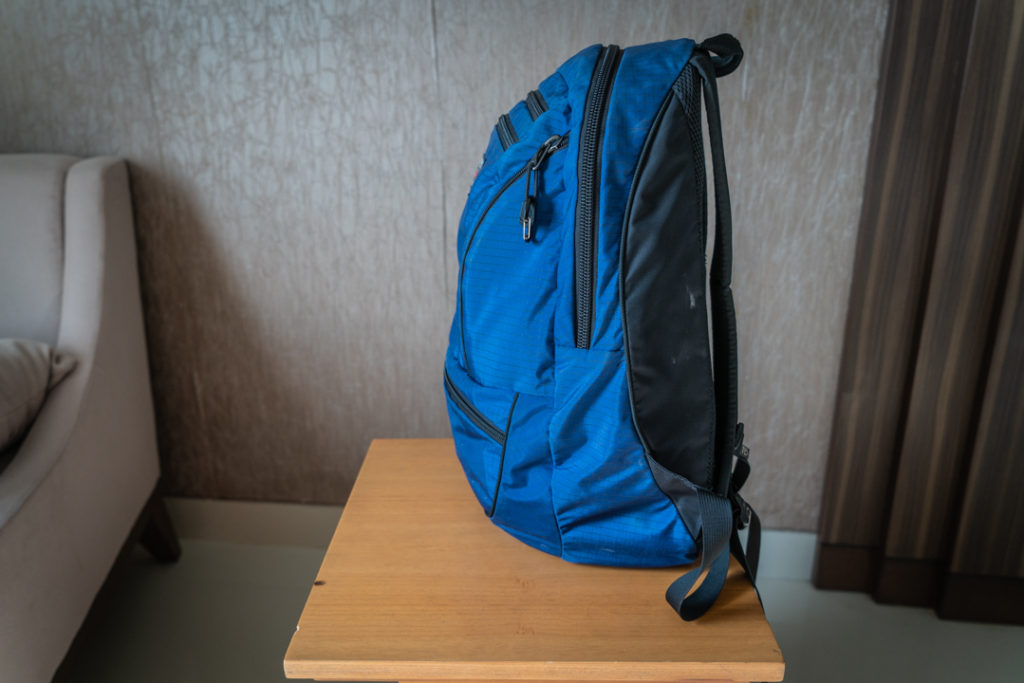 Overall the main compartment with the optional add-ons does exactly what I need a daypack to do. It holds a lot of gear including a laptop and is not over complicated.
---
External Pockets
Tom Bihn Are famous for their well thought out organizational pockets and the Synapse 25 is no exception. It's where the Synapse really shines. With five external pockets on the bag (not including the main compartment), there is a spot for everything and organization is a breeze.
Pocket 1 – This lower pocket on the Synapse 25 is the largest of all the exterior pockets and can hold a large amount of stuff. Because of it's single zipper and horizontal opening I find it best to put things in here that I don't need regular access to. This includes a first aid kit, headlamp and a roll of TP (you never know). It would also make a great spot for a jacket or extra layer. There is no organizational feature inside apart from a few O rings.
Pocket 2 – The two side pockets are the same apart from one has designated slots for pens and the other has one larger sleeve suitable for something wallet sized. These compartments are easily accessed and so I keep charging cables, headphones and an external battery in one and pens, sharpies, and an eye mask in the other. They can't fit a great deal of stuff but they are convenient and quick to access.
Pocket 3 – This central pocket is the smallest of the bunch but it's size and location make it great for a pair of sunglasses, it can't hold much more than that.
Pocket 4 – This pocket on the Synapse was designed to hold a bottle of water. It's a great centralized location so the weight is balanced nicely and is quickly accessed. It will hold a standard 1 lite Nalgene bottle and also slightly taller, slimmer bottles. Most often I'm carrying water inside the main compartment of the bag and prefer to use this pocket as my "dump pocket". I stash my phone, wallet and other small stuff if I don't want my pockets full. I also use a Tom Bihn Key Strap to secure hotel keys.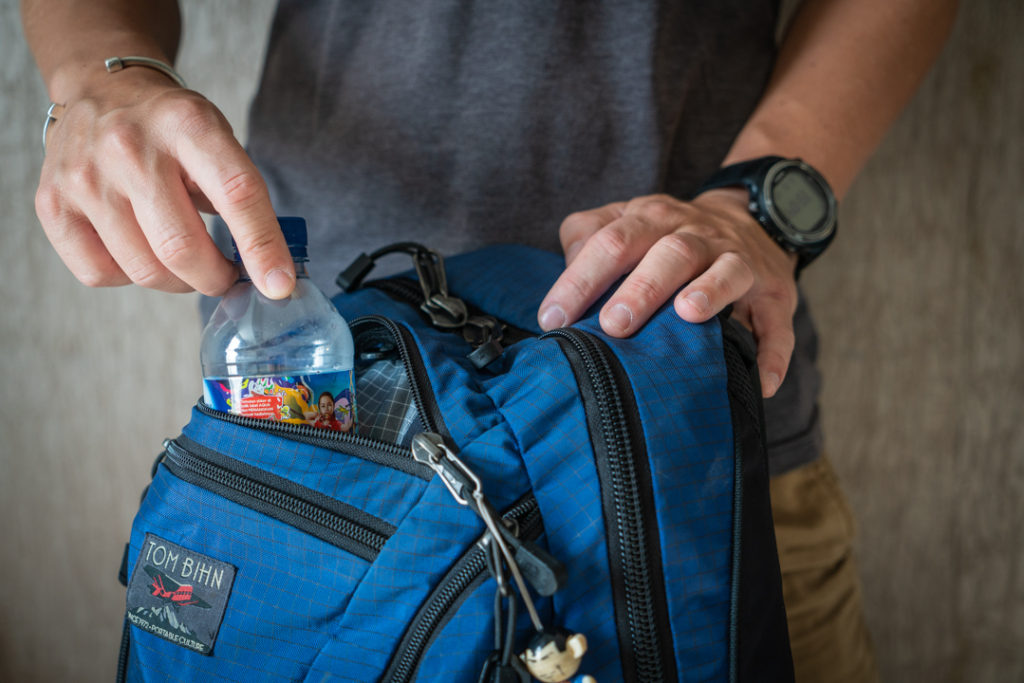 Things I love about the Synapse
The Organisational Features – Very well thought out pockets and layout
The Looks – Streamlined, Modern appearance
Things I don't love about the Synapse:
The Weight – At almost two pounds it's heavy
The Stretchy Pocket on the Main Compartment – it gets in the way, I'd prefer it if a zipper was used
---
Did I Miss Something?
Well, that's my Tom Bihn Synapse review, when it comes to testing and reviewing gear I often get left with a feeling of, "is there something better" or "I wish this product could do XYZ".
I have none of those feelings about the Synapse. I really feel like I've found the ultimate day pack.
Of course, I will continue to test and review bags, that's a big part of what Pie on the Trail is. However, I don't know of anything on the market that I want to own more than the Tom Bihn Synapse 25. It really is my Holy Grail of a Daypack
Order your's here www.tombihn.com
If I missed out something important or you know of a better bag then drop me a comment below.
Read more of my Tom Bihn reviews here
Check out the video that goes hand in hand with this article
This site contains affiliate links. If you purchase something through one of these links it helps to support my work here at Pie on the Trail and doesn't cost you anything extra. Cheers
Facebook Comments