This post is all about the best clothes for hiking. Whether you're going out for a couple of nights or you're planning a thru-hike. I've hiked over 5000 miles in the past four years including the Appalachian Trail and the Continental Divide Trail, i've used and abused a lot of the clothing below and I trust it to get the job done.
I'll be using a lot of this exact clothing on my upcoming High Sierra Trip.
---
Characteristics and Material Choice of the Best Hiking Clothes
Functionality
The most important characteristic of hiking clothing is that each item serves its purpose. A hiking shirt should protect you from sun exposure, breathe well and be comfortable with a backpack on. A puffy jacket should insulate well and keep you warm on cold nights.
You get the idea, each item in your pack needs to perform its task well, otherwise find something better. With that said. Let's look at some overarching characteristics of the best hiking clothes.
Quick Drying
Hiking clothes have to dry fast. Hiking (even in winter) generates a good amount of body heat. This leads to sweating as your body tries to cool itself. Clothes that are quick-drying are essential. You want to avoid being wet when you stop hiking for the day to avoid getting cold.
When it rains this is even more important because even with good rain gear you will get wet, most likely from your own perspiration.
Lightweight
Avoiding "extra" clothing is key for a lighter pack but selecting clothes that are lightweight will also lighten your load. The weight of clothing adds up fast so it's important to search out lightweight items. Get yourself a good set of scales and weigh everything (not only your clothing).
The weight of worn clothing (discussed below) is slightly less critical. The packed clothing is the most important. It lives inside your pack most of the time and contributes to total pack weight.
A Lightweight Layering System is Key
Durability
Durability, although important is the least important of the factors discussed here. By choosing lighter weight clothing we may have to compromise a little on durability.
However, most clothing items for backpacking will last a long time. I've used some of the items below for multiple thru-hikes and they're still going strong.
Cost & Quality
The best clothes for hiking don't necessarily need to be super expensive. But, it's important to invest your money in quality clothing items so you can rely on them when you need them. You don't need to go out and buy the highest-tech clothing with designer labels though.
All of the clothing in this guide is fairly priced and won't break the bank.
Fabric Choice (Merino vs Synthetics)
So now we've looked at the characteristics of good hiking clothes, let's look at which fabrics you should be using. Mixing and matching Merino wool and synthetics is the way to go. Both materials have their pro's and con's. Using each fabric for the right application reaps the benefits.
Merino Wool Pro's
Keeps the stink at bay better than synthetics
Warmer when wet
Softer and more comfortable
Merino Wool Con's
More expensive
Absorbs more moisture than synthetics and doesn't dry as quickly
The thinnest Merino is still thicker than synthetics and thus warmer on hot hiking days
Less durable
Merino Wool Beanie from Altidude
Polyester/Synthetic Pro's
Cheaper
More Durable
Dry Faster
Fabrics can be thinner and thus cooler in hot temperatures
Polyester/Synthetic Con's
Will smell faster than Merino Wool
---
Think of your Hiking Clothes as a "System" – Worn Clothing & Packed Clothing Working Together
Most hikers break their clothing into two categories, Worn Clothing, and Packed Clothing. Your worn clothing protects you when you're on the move. If it's raining or snowing you'll put on your rain gear (and maybe a mid-layer). This will keep the majority of the precipitation at bay but it's likely your clothing will get wet. Either from the rain or from sweating inside your rain gear. It's better to be warm and wet from your own sweat than cold and wet from precipitation.
It's important to have dry clothing to change into at night time to avoid hypothermia. Long underwear, dry socks, your puffy jacket, and a warm hat are those items. They should never get wet so that you can change into them at night. You will often sleep in them on the coldest nights to increase the warmth of your sleeping bag or quilt.
Rain gear is considered packed clothing as it's generally only worn when it's raining. Or when you need an extra layer to stay warm whilst hiking.
The same can be said for any item of clothing. It's sometimes necessary to wear all your clothing if it's very cold.
Your packed clothing will spend the majority of its time inside your backpack. Thus it's important for it to be lightweight. But it plays a critical role in keeping you warm and safe on the trail so weight is not the only consideration.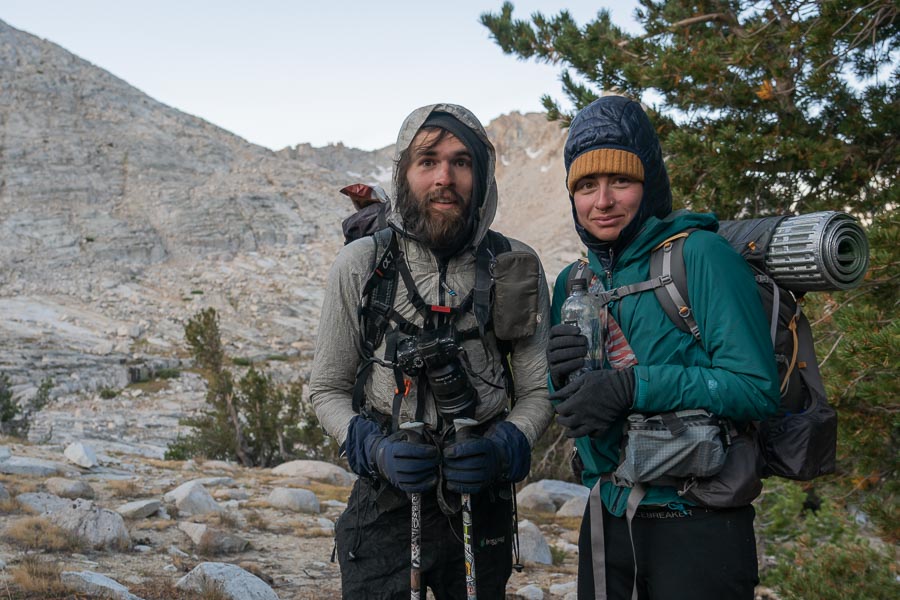 Sometimes it's neccessary to wear all of your clothes
Worn Clothing
Starting from the ground up, here's what I consider the best clothes for hiking in.
Socks
I've covered my choice of socks for hiking in a previous post. In short, I look for ankle height socks made with a blend of merino wool (or similar) and synthetics.
I prefer medium weight socks even in summer. They strike a balance between durability and the speed in which they dry. I generally carry two pairs of socks for hiking and sometimes an extra pair for sleeping (see below).
Balega Blister Resist Quarter Sock
Weight – 2.1OZ / 60g
Cost – 14 USD Shop Now
The Balega Blister Resist socks have become a favorite of mine in recent years. They use Mohair (Goat Wool) instead of Merino, blended with polyester. Mohair has very similar properties to Merino. Balega's breathe well, keep the stink at bay and are very durable.
They have elasticated arch support, padding in all the right places and venting everywhere else.
---
Darn Tough Hiker 1/4 Cushion Sock
Weight – 2.2OZ / 62g
Cost – 18 USD Shop Now
Darn Tough socks are a favorite amongst thru-hikers. They are a high-quality product, backed up by a reliable warranty. Merino Wool, Nylon and a touch of Lycra make up this sock. Providing padding, breathability and a little stretch.
I've hiked thousands of miles in Darn Tough socks over the years and they have a place in my pack going forward.
---
Shoes – Trail Runners or Die
I have an older post dedicated to the best hiking shoes and plan on revamping that post soon. In short, the best shoes for three-season hiking are lightweight trail running shoes. They should have good traction, breathe well and be reasonably durable.
I have very wide feet and prefer shoes with Zero Drop. My go-to hiking shoes for the past four years has been Altra's Lone Peak Series of trail running shoes. For those with narrower feet, the Brooks Cascadia 13 may be a better option. They are a very popular shoe out on the trail.
Altra Lone Peak 4
Weight – 24OZ / 680g (Pair)
Cost – 119 USD Shop Now
Altra Lone Peaks are one of the most commonly used shoe in the long-distance hiking community. Their wide toe box allows your feet and toes plenty of space. This makes them especially good for people with wider feet such as myself. The soles are grippy and the mesh upper allows your feet to breathe well and makes them fast drying when wet.
---
Brooks Cascadia 14
Weight – 21.4OZ / 607g (Pair
Cost – 129 USD Shop Now
The Brooks Cascadia 14's are a great alternative for narrower feet where the Altra's may feel loose and ill-fitting. The Cascadia's have great grippy soles and the upper of the shoe is a little more durable. They may not dry as well the Lone Peaks from Altra and are slightly heavier.
---
Running Shorts Make the Best Hiking Shorts
The best shorts for hiking are lightweight running shorts made of synthetic materials. They should have an elasticated waste-band with a drawstring and pockets are a bonus.
Some people prefer to go commando and use shorts with built-in "support". I prefer shorts without a liner. They work better with my underwear (see below) to reduce chafing from long days of hiking. If I find a pair of shorts that work well for me but have a liner I cut them out. Length of shorts is a personal preference, short shorts are cool but I'm a mid-length kind of guy.
Under Armour Men's Raid 10-Inch Shorts
Weight – 5.0OZ / 142G
Cost – 24 USD Shop Now
The Under Armour Raid shorts tick all the right boxes. Using 100% polyester with 4 way stretch helps them dry quickly and move freely when hiking. They have an elasticated waistband with a drawstring and two mesh-lined pockets and do not have a liner built-in.
For a Women's Specific Option checkout the Similar Fly Shorts from Under Armour
---
Baleaf Men's 7″ Quick Dry Workout Running Shorts
Weight – 6.2OZ / 176g
Cost – 18 USD Shop Now
If you're looking for a cheaper option with a built-in liner the Baleaf Shorts have great reviews. 95% polyester and 5% spandex for breathability and stretch. They have hand pockets and a zippered back pocket. Side mesh panels and reflective accents are a bonus.
For a Women's Specific Option checkout the Similar Baleaf Women's 3″ Running Shorts
---
Underwear for Hiking
As mentioned above I prefer hiking with shorts without a built-in liner and dedicated underwear. I feel this is more comfortable and helps reduce chafing.
For the Men – Under Armour Men's 6-inch Boxerjock
Weight – 2.3 OZ / 65g
Cost – 25 USD (Two Pack) Shop Now
I've tried several types of athletic underwear over the years and have a hard time recommending anything other than the Under Armour Boxerjocks. They are 90% Polyester and 10% Elastane. They dry fast and vent moisture well whilst moving well whilst hiking. The seams are designed to further prevent chafing. They're also treated with anti-odor technology to keep the funk at bay, I've found them to be extremely durable and have had a single pair last for thousands of miles of hiking.
---
For the Women – Under Armour Women's Power
Weight – 0.47 OZ /12 g
Cost – 12 USD Shop Now
With 76% Nylon and 24% Elastane the Women's Power Underwear breathe well and stretches in every direction. Laser-cut edges help improve comfort for long days of hiking. They have the same anti-odor technology as the men's option above.
---
Hiking Shirt

s
There are a few options to consider for hiking shirts. A lot of them depend on personal preference and the sort of environment you'll be hiking in.
Long-Sleeve or Short-Sleeve?
For any trips that will have a lot of sun exposure or mosquitoes and other bugs, I recommend a long-sleeve shirt. It will help with sun protection (minimizing sunscreen) and is a layer between you and pesky bugs. You can always roll the sleeves up as desired. Short sleeves are fine in other situations and will be a little cooler and weigh less.
Merino Wool or Synthetics & Button-up vs T-Shirt
Hiking in a Merino shirt will keep the stink at bay and feel comfortable against your skin. Make sure you choose the thinnest possible option. It will be cooler and hold the least amount of moisture. Merino shirts are most commonly found as a regular T-Shirt or a long sleeve T-Shirt.
Synthetic shirts have the advantage of being cheaper and more durable. They also don't retain as much moisture and they dry quicker. However, they smell bad faster and can feel plasticky against the skin. They can be found as short and long sleeve T-Shirts or button-up shirts.
I generally prefer a long sleeve button up synthetic shirt for the extra sun and bug protection. Some include anti-stink technology and are treated with bug repellent, nice features but not essential.
Columbia Silver Ridge Lite Long Sleeve Shirt
Weight – 8 OZ / 227g
Cost – 40 USD Shop Now
Columbia makes some of the best selling clothes for hiking and the Silver Ridge Shirt is a great long sleeve option. It's made of 100% Polyester which allows the shirt to breathe well and dry quickly. The long sleeves will provide good coverage from the sun and bugs but can be rolled up and secured with a button. It's treated with anti-microbial technology, comes in numerous colors and sizes and is available in a women's model.
---
SmartWool Merino 150 Baselayer Long Sleeve
Weight – 6 OZ / 170 g
Cost – 80 USD Shop Now
SmartWool makes some of the best Merino wool products on the market. Labeled as a base layer, the 150 weight merino shirt makes a great option for all-day hiking. It's thin enough to breathe well and keep you cool whilst hiking.
The 87% Merino/ 13% Nylon fabric is soft to the touch. The Merino keeps the stink away for days. Nylon is blended to improve the durability of the shirt. The design removes any seems from the shoulders, making it comfortable when wearing a backpack for long days.
Also available in a women's model.
---
Baseball Caps and Sun Hats
I recommend wearing some kind of hat whilst hiking to keep the sun out of your eyes, provide some sun protection and to absorb and wick away sweat. I find a baseball cap is enough on 90% of my trips but for very extreme sun exposure I think a dedicated sun hat is a wise idea.
DALIX Two Tone Trucker Hat
Cost – 7 USD Shop Now
If you don't have an old baseball cap laying around then the DALIX Trucker Hat is a cheap but functional option. Solidly reviewed on Amazon, it has breathable mesh and a padded sweatband. It comes in a range of colors to coordinate with your hiking outfit.
It's important to stay stylish out on the trail..
---
Outdoor Research Helios Sun Hat
Cost – 37 USD Shop Now
If you're looking for more sun protection, the Helios from Outdoor Research may be a better option. It has a wide brim but not so wide that it will be annoying whilst wearing a backpack.
The lightweight and breathable material will be comfortable on long hiking days and it can be stuffed inside a small pocket without taking any damage. If you're not worried about looking dorky and you want the best sun protection check out the Outdoor Research Sun Runner.
---
Mid Layers for Hiking
On 90% of my trips, I hike without a mid-layer. I find that I generate enough body heat whilst hiking to just wear my hiking shirt. If I do get cold whilst on the trail, I can put on my rain jacket, a buff, a warm hat and rain pants.
In winter here in Finland or in some more extreme mountain scenario's where I expect very cold daytime temperature's I bring a mid-layer.
The North Face TKA 1/4 Zip
Weight – 10OZ / 283g
Cost – 33 USD Shop Now
An affordable and solid option for a mid-layer is the North Face TKA 1/4 Zip. The TKA does without a full zipper and foregoes a hood to save weight, I don't believe most hikers will miss these features. It's a solidly built mid-layer that's backed up by a lifetime guarantee. It comes in a range of size and color options. A Women's model is also available.
---
Melanzana Micro Grid Hoodie
Weight – 12OZ / 340g
Cost – 69 USD Shop Now
The Melanzana Micro Grid Hoodie has achieved cult status in the ultralight backpacking community. Made in small batches in Leadville, Colorado. It's an ultralight fleece that has a nice set of features whilst maintaining a low weight. It uses micro-grid fleece to trap heat but allow it to breathe. A cozy hood and a handwarmer pocket for cooler temperatures. It comes in a men's and women's version in a range of size and color options. Be aware they are often sold out online but can be picked up second hand if you look around.
---
Wind Shirts – Why I Don't Usually Bother
I don't think wind shirts are usually worth carrying but many hikers like to have these ultralight jackets to block wind whilst hiking in exposed areas. If I'm cold when hiking (which rarely happens) I'll throw on my rain jacket to block the wind and trap more of my body heat. I'm carrying my rain jacket either way and so don't need to carry an extra wind shirt.
Wind shirts block the wind but stay breathable, thus they are not fully waterproof. Again, if I'm cold whilst hiking I put on my rain jacket. Although not as breathable, it traps more heat that's generated from hiking and thus keeps me warm. That being said if you're interested in a dedicated wind shirt, here's my recommendation.
---
Patagonia Houdini Jacket
Weight – 3.3OZ / 94g
Cost – 78 USD Shop Now
The Patagonia Houdini weighs just 3.3OZ / 94g and the 15 denier ripstop nylon blocks wind effectively. The jacket is treated with DWR to protect you against a light rainfall. It features a simple drawstring at the hem and the hood and has a single chest pocket. To keep the weight to a minimum it has elastic at the cuffs and no hand pockets.
---
Packed Clothing
The majority of your packed clothing will spend the bulk of its time inside your backpack. It only comes out when you get to camp but it's just as important, if not more so than your worn clothi
Puffy Jacket – The Most Critical Item of Hiking Clothing?
A warm, insulating jacket is critical for keeping you warm on cold mornings and evenings. It's often worn to sleep in on the coldest nights to boost the temperature rating of your sleep system.
Click here for a full breakdown of the Best Puffy Jackets for Ultralight Backpacking in 2020
Mountain Hardwear Ghost Whisperer
Weight – 8OZ /227g
Cost – 200 USD Shop Now
The Ghost Whisperer from Mountain Hardwear is one of the lightest and best selling puffy jackets on the market. The shell material is a 7 denier fabric, treated with a water-resistant finish. It uses 800 fill power water-resistant down. Although not as "puffy" as other jackets it's great for three-season ultralight trips. Also available in a women's option
---
RAB Xenon X – A Great Synthetic Option
Weight – 12OZ /340g
Cost – 175 USD Shop Now
If you're looking for a great synthetic puffy jacket, I've had good experiences with the RAB Xenon X. It uses Primaloft Gold Insulation and a Pertex Quantum shell material. This gives the jacket great water resistance and the ability to stay warmer if it does get wet. If you're expecting to wear your puffy jacket whilst hiking on colder trips. The Xenon X may be the right option for you.
---
Rain Jackets and Pants
Rain gear is one of the most important clothing items for hiking. It keeps the rain at bay and as discussed above is a key layer to keep you warm. For a super in-depth article check out my recent post on the Best Hiking Rain Jackets in 2020.
Zpacks Vertice Rain Jacket
Weight – 5.7OZ /162g
Cost – 259 USD Shop Now
The Zpacks Vertice Rain Jacket is one of the lightest rain jackets available and is my current go-to jacket for the trail. Despite its low weight, the jacket has all the features you need and none you don't. A solid hood, breathable material, armpit zips for ventilation and adjustable hem and cuffs. Available in both men's and women's models and matching rain pants also available.
---
Outdoor Research Helium 2 Rain Jacket
Weight – 6.4OZ /181g
Cost – 110 USD Shop Now
The Outdoor Research Helium 2 is an affordable, minimalist rain jacket that gets the job done. It does away with pit zips and adjustability at the cuffs and hem to save weight. It's not the most breathable jacket but it keeps out rain effectively and will trap body heat when worn in colder temperatures. Women's model available and matching rain pants are also available.
---
Gloves and Waterproof Rain Mitts
A pair of lightweight synthetic or merino gloves is usually enough to keep the cold at bay on a three-season hiking trip. If you need more warmth, I recommend waterproof rain mittens. Pair them with thin gloves rather than using a bulkier pair of gloves. They will keep rain and wind out and the waterproof material will trap heat well.
New Balance Lightweight Running Gloves
Cost – 15 USD Shop Now
Simple but effective, these lightweight gloves from New Balance are made of 95% Polyester and 5% Spandex. They have a grippy palm, antimicrobial treatment and have touch tips so you can update your Facebook status from the tops of mountains.
---
Outdoor Research Revel Shell Mitts
Cost – 60 USD Shop Now
These waterproof mitts from OR will keep the rain off your gloves and trap in heat to keep your hands warm. They use a breathable material to allow some moisture to escape. The palms have a grippy texture, great for use with trekking poles or an ice ax. They have a few unnecessary straps that I'd cut off to shave some extra weight.
---
Base Layer Top & Bottoms
You can't talk about the best clothes for hiking without going into detail on base layers. Your base layers are the clothing items you rely on when your hiking clothes get wet. They should ideally stay safe and dry inside your backpack until you need to change into them at night. I'll sometimes put my base layer bottoms on underneath my hiking shorts on cold hiking days. I recommend your base layer top have long sleeves for a little extra warmth.
I recommend base layers using a majority of Merino wool. It insulates well if damp, is comfortable next to the skin and has the ability to withhold the stink. Unless I'm on a serious winter trip I usually opt for the thinnest / lightest weight option. I rely more on my puffy jacket and sleep system to stay warm.
SmartWool Merino 150 Baselayer Top
Weight – 6OZ / 170g
Cost – 80 USD Shop Now
This is the exact same shirt I recommend above for a Merino hiking shirt, it's that good. SmartWool makes some of the best quality Merino wool garments available. The 150 weight top is a majority of 87% wool with 13% Nylon for more durability. I've used SmartWool products for years. They aren't the cheapest but the quality and functionality are hard to beat.
It has flatlock seams to avoid chafing, comes in a range of colors and sizes and a women's specific model.
---
SmartWool Merino 150 Baselayer Bottom
Weight – 5.6OZ / 159g
Cost – 75 USD Shop Now
The same properties as the SmartWool top above, the bottoms are simple and get the job done. They have a wide elastic waistband to keep them in place and allow for movement.
Women's Specific Model also available.
---
Warm Hat – Totally Worth the Weight
Regardless of whether your puffy jacket has a hood or not I still think carrying a warm hat on an ultralight backpacking trip is well worth it. The best options are made from synthetics, wool or a combination of the two. I prefer a hat that "rolls over" rather than a skull cap style hat, purely from a stylistic standpoint. I choose hats that will cover my ears, dry fast if damp and weigh little.
Minus33 Merino Wool Ridge Cuff Beanie
Weight – 2.4OZ / 68g
Cost – 23 USD Shop Now
Minus33 produce great Merino products. The Ridge Beanie is a great lightweight beanie option. It's 100% Australian Merino wool with flatlock seams and a rollover cuff that covers the ears. It's affordable and comes in a wide range of colors.
---
Condor Watch Cap – Ultralight Fleece Option
Weight – 1.6OZ / 45g
Cost – 7 USD Shop Now
If you want to save some money, this fleece option from Condor is a great choice. It rolls down well to cover the ears, is soft and comes in a few different color options.
Get Yourself A Buff
Weight – 0.6OZ / 17g
Cost – 20 USD Shop Now
The inclusion of a Buff in your clothing system is well worth it. I often use mine during the day to wipe away sweat. But when the temperatures drop I wear it around my neck for extra warmth. You can pull it up around your face if it's really cold, you can pick up a hot cook pot or wipe away condensation from the inside of your tent. I recommend the Merino wool version as it keeps the stink away.
---
Sleep Socks – Should I Bother?
I generally carry two pairs of socks on my hiking trips, but sometimes I'll bring an extra pair for sleeping if there's a good chance my feet will get wet. Hiking in wet socks sucks. I often switch to a dry pair halfway through the day and sometimes carry another pair that are only for sleeping. I still recommend your sleeping socks are the same brand and model as your hiking socks so you can wear them if necessary. See my recommendations at the top of this article.
---
Did I Miss Your Favorite Item of Hiking Clothes?
I tried to go really in-depth on this post and give you thoughts on every single item of clothing that I think belongs inside a hiking backpack. I've had really good experiences using a clothing system just like this on multiple thru-hikes and countless multi-day trips.
You can check out more of my guides and reviews here
See the video that goes along with this post here
I'd love to hear from you though. Drop me a comment below of what you think are the best clothes for hiking. All the best, Pie
This site contains affiliate links. If you purchase something through one of these links it helps to support my work here at Pie on the Trail and doesn't cost you anything extra. Cheers
Facebook Comments